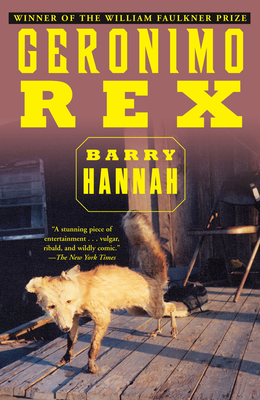 Geronimo Rex
Paperback

* Individual store prices may vary.
Description
Geronimo Rex, Barry Hannah's brilliant first novel, which was nominated for the National Book Award, is full of the rare verve and flawless turns of phrase that have defined his status as an American master. Roiling with love and torment, lunacy and desire, hilarity and tenderness, Geronimo Rex is the bildungsroman of an unlikely hero. Reared in gloomy Dream of Pines, Louisiana, whose pines have long since yielded to paper mills, Harry Monroe is ready to take on the world. Inspired by the great Geronimo's heroic rampage through the Old West, Harry puts on knee boots and a scarf and voyages out into the swamp of adolescence in the South of the 1950s and '60s. Along the way he is attacked by an unruly peacock; discovers women, rock 'n' roll, and jazz; and stalks a pervert white supremacist who fancies himself the next Henry Miller.
Grove Press, 9780802135698, 384pp.
Publication Date: April 15, 1998