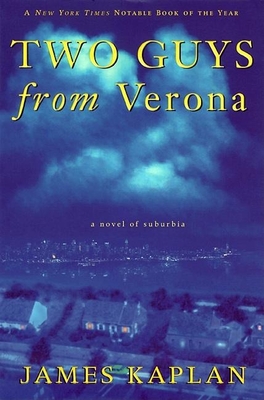 Two Guys from Verona
A Novel of Suburbia
Paperback

* Individual store prices may vary.
Description
Highly acclaimed on its publication and selected by The New York Times as a Notable Book of the Year, Two Guys from Verona is a rare breed of novel, striking a powerful chord across the nation and making James Kaplan the unexpected voice of a generation. It's the fall of 1999 in the plush New Jersey suburbs, and Will and Joel are fortyish, friends since the second grade. Will is a successful, tired cardboard salesman with a mortgage, a pretty wife, and 2.2 kids. Joel lives with his moth and works at a sub shop. Joel's favorite pastime is cruising the dark streets in his rusted-out '74 Chevy, drinking whiskey from a brown paper bag. Will feels sorry for Joel. And Joel feels sorry for Will. But their twenty-fifth high school reunion will change both their lives in ways neither has dreamed of - one facing death, the other facing life for the first time. A bittersweet elegy for what, not too long ago, looked like a spanking new American version of the promised land. - The New York Times Book Review.
Grove Press, 9780802136237, 352pp.
Publication Date: March 3, 1999