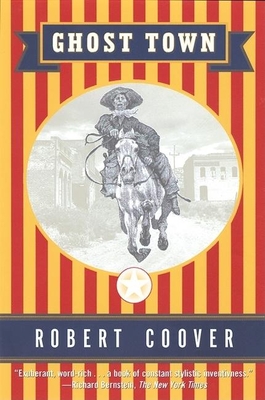 Ghost Town (Coover) (Paperback)
Grove Press, 9780802136664, 160pp.
Publication Date: January 10, 2000
* Individual store prices may vary.
Description
A nameless rider plods through the desert toward a dusty Western town shimmering on the horizon. In his latest novel, Robert Coover has taken the familiar form of the Western and turned it inside out. The lonesome stranger reaches the town - or rather, it reaches him - and he becomes part of its gunfights, saloon brawls, bawdy houses, train robberies, and, of course, the choice between the saloon chanteuse or the sweet-faced schoolmistress whom he loves. Throughout, Robert Coover reanimates the Western epics of Zane Grey and Louis L'Amour, infusing them with the Beckettian echoes, unique comic energy, and exuberant prose that have made him one of the most influential figures in contemporary American literature. It is, as The Washington Post Book World put it, "a fast-forward, ribald vision of the American West, a free-for-all that slides from surreal to ridiculous like a circus-goer's grin through a funhouse mirror . . . a heady frisson, a salon entertainment, one helluva ride."