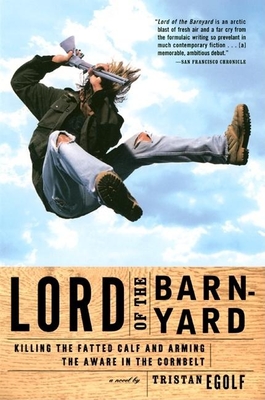 Lord of the Barnyard
Killing the Fatted Calf and Arming the Aware in the Cornbelt
Paperback

* Individual store prices may vary.
Description
A literary sensation published to outstanding accolades in America and around the world, Lord of the Barnyard was one of the most auspicious fiction debuts of recent years. Now available in paperback, Tristan Egolf's manic, inventive, and painfully funny debut novel is the story of a town's dirty laundry -- and a garbagemen's strike that lets it all hang out. Lord of the Barnyard begins with the death of a woolly mammoth in the last Ice Age and concludes with a greased-pig chase at a funeral in the modern-day Midwest. In the interim there are two hydroelectric dam disasters, fourteen tavern brawls, one shoot-out in the hills, three cases of probable arson, a riot in the town hall, and a lone tornado, as well as appearances by a coven of Methodist crones, an encampment of Appalachian crop thieves, six renegade coal-truck operators, an outraged mob of factory rats, a dysfunctional poultry plant, and one autodidact goat-roping farm boy by the name of John Kaltenbrunner. Lord of the Barnyard is a brilliantly comic tapestry of a Middle America still populated by river rats and assembly-line poultry killers, measuring into shot glasses the fruits of years of quiet desperation on the factory floor. Unforgettable and linguistically dizzying, it goes much farther than postal.
Grove Press, 9780802136725, 432pp.
Publication Date: March 13, 2000