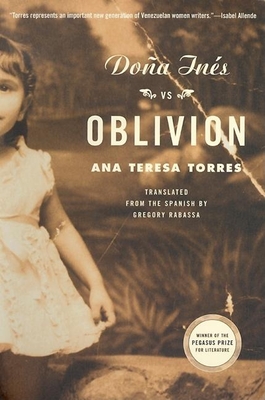 Dona Ines Vs. Oblivion
Paperback

* Individual store prices may vary.
Description
Described by The Washington Post Book World as classic Latin American magical realism . . . from] a remarkable voice, Dona Ines vs. Oblivion is a rich saga melding national history with the story of one bitter family dispute. Dona Ines, matriarch of a wealthy family in eighteenth-century Caracas, is suing to regain the land her late husband bequeathed to his illegitimate mulatto son. Searching in vain for the original deed, she vows not to quit until the dust from the ancient documents rises up and chokes her. In 1780 she dies -- but the spirit of Dona Ines continues her quest through another two centuries of revolution, natural disaster, change, and social turmoil, riding the passionate tide of Venezuelan history to an ultimate conclusion. Beautiful, trenchant, and wickedly funny, it establishes Ana Teresa Torres as an important voice in world literature. A fascinating, exuberant exploration of race and class in Venezuela. -- Cristina Garcia; Exquisitely conceived and executed . . . Dona Ines will haunt serious readers of world literature for decades to come. -- Jay Parini; Torres represents an important new generation of Venezuelan women writers. -- Isabel Allende; Moves with languid dignity . . . Dona Ines's cranky, engaging, importuning, resentful, obsessed and relentless voice guides us through a family history that is also mired in Venezuelan history. -- John Vernon, The New York Times Book Review.
Grove Press, 9780802137265, 243pp.
Publication Date: August 18, 2000