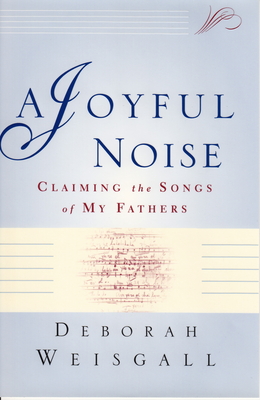 A Joyful Noise
Claiming the Songs of My Fathers
Paperback

* Individual store prices may vary.
Description
In A Joyful Noise, Deborah Weisgall tells a moving story of her turbulent coming-of-age in the shadow of two remarkable men who lived life as if they were characters in an opera. The daughter of a mercurial composer and the granddaughter of a legendary cantor, Deborah as a child longed to be entrusted with their precious music and carry it on herself. But it was impossible; she was a girl. A Joyful Noise recounts Deborah's search for a place within the family tradition and, finally, her triumphant discovery of a way to make the men who would exclude her -- who were also the men she loved -- listen to her voice. A Joyful Noise is a tender, heartbreaking, beautifully written chronicle of the power of memory, the survival of faith, and the pursuit of a grand musical heritage. A superbly written chronicle encompassing the grand themes of the power of memory and the survival of faith. -- The Jewish Transcript; Weisgall has written a valuable book. -- The New York Times Book Review; This is a lovely memoir of life in the acutely functional family of a fine and learned composer. Deborah Weisgall writes of a milieu of discourse immersed in and emerging from music, and in which love and knowledge are not at odds. . . . A Joyful Noise is that of her own particular music of remembering. -- John Hollander; An absorbing memoir, with music in the background and foreground. -- New York Jewish Week.
Grove Press, 9780802137302, 272pp.
Publication Date: August 2, 2000