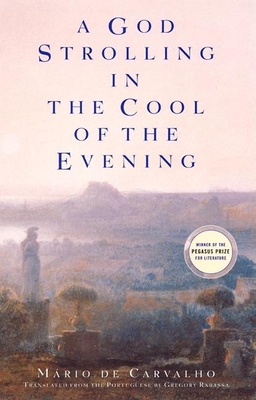 A God Strolling in the Cool of the Evening (Pegasus Prize for Literature)
Paperback

* Individual store prices may vary.
Description
Winner of the Portuguese Writers' Association Grand Prize for Fiction and the Pegasus Prize for Literature, and a best-seller in Portugal, Mario de Carvalho's A God Strolling in the Cool of the Evening is a vivid and affecting historical novel set at the twilight of the Roman Empire and the dawn of the Christian era. Lucius Valerius Quintius is prefect of the fictitious city of Tarcisis, charged to defend it against menaces from without -- Moors invading the Iberian peninsula -- and from within -- the decadent complacency of the Pax Romana. Lucius's devotion to civic duty undergoes its most crucial test when Iunia Cantaber, the beautiful, charismatic leader of the outlawed Christian sect, is brought before his court. A God Strolling in the Cool of the Evening is a timeless story of an era beset by radical upheaval and a man struggling to reconcile his heart, his ethics, and his civic duty.
Grove Press, 9780802137746, 304pp.
Publication Date: December 4, 2000