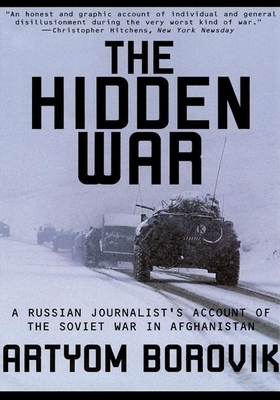 Hidden War
A Russian Journalist's Account of the Soviet War in Afghanistan
Paperback

* Individual store prices may vary.
Description
Until his death in 2000, Artyom Borovik was considered one of the preeminent journalists in Russia. With The Hidden War he provided the world its first glimpse inside the Soviet military machine, capturing the soldiers' terror, helplessness, and despair at waging war in a foreign land against an unseen enemy for unclear purposes. When first published, Borovik's groundbreaking revelations exposed the weaknesses beneath the Soviet Union's aura of military might, creating an enormous controversy both in Russia and around the world. A vital and fascinating portrait of the Soviet empire at the twilight of its power, this is a book that still resonates today. An honest and graphic account of individual and general disillusionment during the very worst kind of war. -Christopher Hitchens, New York Newsday; Alternately fascinating and horrific.... A fascinating look at the life and death of Soviet soldiers. -- Bill Wallace, San Francisco Chronicle; I have read no other account of the war in Afghanistan equal to this ... this is literature. -- Graham Greene.
Grove Press, 9780802137753, 304pp.
Publication Date: April 10, 2001