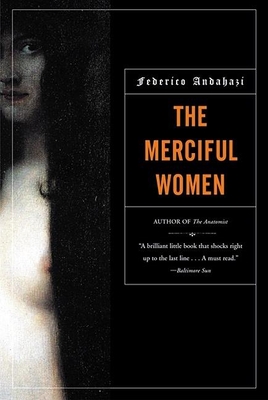 The Merciful Women
Paperback

* Individual store prices may vary.
Description
The second novel from the best-selling Argentine author of The Anatomist, The Merciful Women is a brilliant retelling of the birth of the Gothic novel. In the summer of 1816, Percy and Mary Shelley, Mary's sister, and Lord Byron hid themselves away in a Swiss villa, whiling away rainy afternoons with the Gothic novel contest that would produce Frankenstein. Andahazi's reimagining focuses on the fifth competitor: John Polidori, Byron's manservant, a talentless hack resentful of the ease of his master's life. Through a Faustian pact with an unseen intercessant, Polidori obtains the most compelling vampire story ever written. But The Vampyre has striking similarities to Polidori's benefactor and to what she asks of him in return. Opium, erotica, and decadence meld into a sly and stylish novel about literary ambition, talent, and inspiration. A hoot ... a Voltaire-like skewering of the myth of genius. Andahazi can remind you of vintage Terry Southern. -- Richard Wallace, The Seattle Times Playful, satiric, erotic, sometimes savage, sometimes slapstick ... something completely different, and well worth reading. -- San Francisco Chronicle As a piece of mock-scholarly, wickedly ironic entertainment, it is an utter delight. -- Publishers Weekly This literary tour de force cum vampire tale will leave the reader gasping-from laughter and horror by turns. -- The Baltimore Sun.
Grove Press, 9780802138262, 192pp.
Publication Date: May 15, 2002