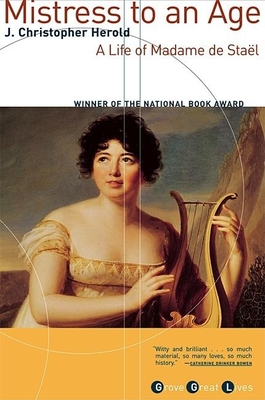 Mistress to an Age
A Life of Madame de Staël (Grove Great Lives)
Paperback

* Individual store prices may vary.
Description
J. Christopher Herold vigorously tells the story of the fierce Madame de Stael, revealing her courageous opposition to Napoleon, her whirlwind affairs with the great intellectuals of her day, and her idealistic rebellion against all that was cynical, tyrannical, and passionless. Germaine de Stael's father was Jacques Necker, the finance minister to Louis XVI, and her mother ran an influential literary-political salon in Paris. Always precocious, at nineteen Germaine married the Swedish ambassador to France, Eric Magnus Baron de Stael-Holstein, and in 1785 took over her mother's salon with great success. Germaine and de Stael lived most of their married life apart. She had many brilliant lovers. Talleyrand was the first, Narbonne, the minister of war, another; Benjamin Constant was her most significant and long-lasting one. She published several political and literary essays, including A Treatise on the Influence of the Passions upon the Happiness of Individuals and of Nations, which became one of the most important documents of European Romanticism. Her bold philosophical ideas, particularly those in On Literature, caused feverish commotion in France and were quickly noticed by Napoleon, who saw her salon as a rallying point for the opposition. He eventually exiled her from France. This winner of the 1959 National Book Award is excellent ... detailed, full of color, movement, great names, and lively incident -- The New York Times Mr. Herold's full-bodied biography is clear-eyed, intelligent, and written with abundant wit and zest. -- The Atlantic Monthly.
Grove Press, 9780802138378, 512pp.
Publication Date: January 11, 2002