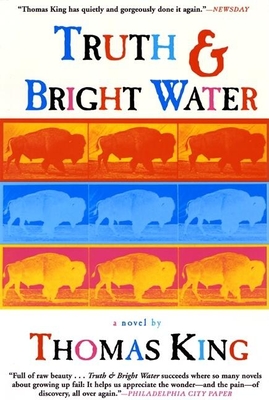 Truth and Bright Water
Paperback

* Individual store prices may vary.
Description
Thomas King is a writer of lyrical, comic poignancy, and a bestseller in Canada. Truth & Bright Water tells of a summer in the life of Tecumseh and Lum, young Native cousins coming of age in the Montana town of Truth, and the Bright Water Reserve across the river in Alberta. It opens with a mysterious woman with a suitcase, throwing things into the river-then jumping in herself. Tecumseh and Lum go to help, but she and her truck have disappeared. Other mysteries puzzle Tecumseh: if his mom will take his dad back; if his rolling-stone aunt is home to stay; why no one protects Lum from his father's rages. Then Tecumseh gets a job helping an artist-Bright Water's most famous son-with the project of a lifetime. As Truth and Bright Water prepare for the Indian Days festival, their secrets come together in a climax of tragedy, reconciliation, and love.
Grove Press, 9780802138408, 272pp.
Publication Date: September 12, 2001