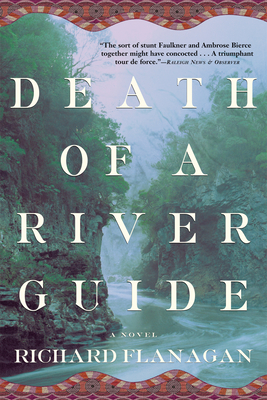 Death of a River Guide
Paperback

* Individual store prices may vary.
Description
Death of a River Guide was called "haunting and ambitious" by The New York Times Book Review and "a remarkable achievement" by The Washington Post Book World. It confirms Richard Flanagan's place among the world's most remarkable voices. Aljaz Cosini is leading a group of tourists on a raft tour down Tasmania's wild Franklin River when his greatest fear is realized -- a tourist falls overboard. An ordinary man with many regrets, Aljaz rises to an uncharacteristic heroism, and offers his own life in trade. Trapped under a rapid and drowning, Aljaz is beset with visions both horrible and fabulous. He sees Couta Ho, the beautiful, spirited woman he loved, and witnesses his uncle Reg having his teeth pulled and sold to pay for a ripple-iron house. He sees cities grow from the wild rain forest and a tree burst into flower in midwinter over his grandfather's forest grave. As the entirety of Tasmanian life -- flora and fauna -- sings him home, Aljaz arrives at a world where dreaming reasserts its power over thinking, where his family tree branches into stories of all human families, stories that ground him in the land and reveal the soul history of his country. "A triumphant tour de force, a novel that succeeds brilliantly in its audacious design...." -- Philip Gerard, The Raleigh News & Observer "An enormous, intricate, intimate tapestry not only of the wilderness, but also of a family, an expansive tribal community." -- Michael Pakenham, The Baltimore Sun "Ricard Flanagan's second novel makes good on a truly soaring ambition and flirts with literary greatness." -- Robert Cohen, Chicago Tribune
Grove Press, 9780802138637, 336pp.
Publication Date: February 1, 2002
or
Not Currently Available for Direct Purchase