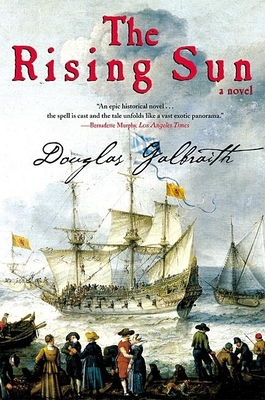 The Rising Sun
Paperback

* Individual store prices may vary.
Description
Now in paperback, Douglas Galbraith's The Rising Sun is an extraordinary tour de force of historical fiction in the tradition of Caleb Carr's The Alienist and David Liss's A Conspiracy of Paper. A widespread critical favorite in hardcover, it was hailed by Kirkus Reviews as one of the best novels of the past decade, and established its author as a major new talent. In 1698, five vessels led by the flagship Rising Sun embarked on a perilous voyage for the northern coast of what is now Panama, where passengers intended to found a colony at Darien. With them went the hopes and fortunes of the nation of Scotland, which sought to build an overseas empire so that it could at last compete on the world stage with its rival, England. The Rising Sun is the story of this mission and its tragic outcome, as recorded by the ship's superintendent of cargoes, Roderick Mackenzie. A young man of promise and ambition, Mackenzie is quickly caught up in the intrigues of his fellow colonists -- rivalries that will prove overwhelming as nationalist optimism gives way to the brutal realities of their hardscrabble life and rain, mud slides, and disease assault the Scottish encampment. A dramatic, pitch-perfect story of the adventures and betrayals of men under duress in a strange, exotic land, The Rising Sun establishes Douglas Galbraith as a writer of uncommon resonance and skill. Galbraith's powers of description are immense ... it succeeds absolutely. -- Geoff Nicholson, The New York Times Book Review The writing throughout is beautifully wrought.... ...the tale unfolds like a vast exotic panorama demanding further examination ... fascinating. -- Bernadette Murphy, Los Angeles Times A] remarkable novelistic debut. -- Richard Bernstein, The New York Times.
Grove Press, 9780802138644, 544pp.
Publication Date: December 12, 2001