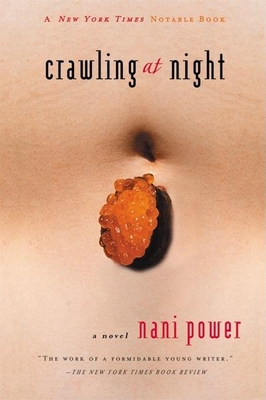 Crawling at Night
Paperback

* Individual store prices may vary.
Description
Hailed by The New York Times as a "formidable young writer ... one who unpacks her characters' emotions with a firm, graceful hand," Nani Power garnered impressive acclaim for her profound debut last year. A darkly lyrical, charged exploration of the double-edged sword of urban anonymity, her novel was deemed "daring" and "one-of-a-kind" by The Atlanta Journal-Constitution. Crawling at Night is a searing, unforgettable portrait of New York City and of the appetites and self-sabotaging patterns of its displaced inhabitants. Ito is a literate yet tongue-tied sushi chef who recites haiku in his head as he labors over shopping lists, which at once define and confine him. Alone, he dreams of Mariane, a lost alcoholic waitress who works with him at the Chelsea sushi bar. Ito can't help but live part of every waking day reliving the tragedy he left behind in Japan, and across town Mariane yearns for the baby girl she abandoned almost fifteen years before. In the spinning haze of two nights in Manhattan, Ito and Mariane find themselves careening on a downward spiral through the dark streets of the city. As they navigate a sea of alcohol, sex, and exotic food, we are taken inside the minds of other scarred people they encounter, whose paths, like the streets of the city itself, crisscross and overlap, skimming one another for some sort of connection. Crawling at Night is a dazzling evocation of the way people draw each other in to absorb the shock of loneliness, and how they then either drift out of orbit or are pushed away. With heartbreaking intimacy, Power shows that the dark side of the city and its struggling inhabitants is but an extension of the purest longings and intentions of those very same, very human people. "... profound and thrilling ... Crawling at Night will not only be a sensation of the season, it will also endure." -- Robert Olen Butler "A formidable young writer ... one who can put you in mind of both Mary Gaitskill and Denis Johnson." -- Dwight Garner, the New York Times Book Review "... an effective exploration of the lies we tell ourselves to help us handle the business of living." -- Jabari Asim, Washington Post Book World " Power] has an astonishing talent ... deeply affecting...." -- Bookforum.
Grove Press, 9780802138842, 240pp.
Publication Date: April 8, 2002
or
Not Currently Available for Direct Purchase