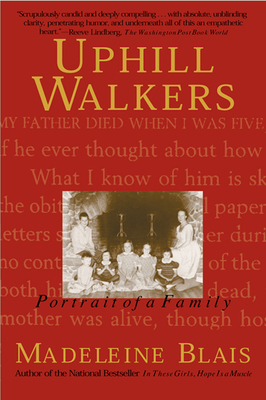 Uphill Walkers
Portrait of a Family
Paperback

* Individual store prices may vary.
Description
In 1952, Madeleine Blais's father died suddenly, leaving his pregnant wife and their five young children to face their future alone. Uphill Walkers is the story of how the Blais family pulled together to survive and ultimately thrive in an era when a single-parent family was almost unheard-of. As they came of age in an Irish-American household that often struggled to make ends meet, the Blais children would rise again and again above all obstacles -- at every step of the way inspired by a mother who expected much but gave even more, as she saved and sacrificed to provide each child with the same education they would have received had their father lived. Beautiful, heartbreaking, and full of wonderful insights about sisterhood, brotherhood, and the ties that bind us together, Uphill Walkers is a moving portrait of the love it takes to succeed against the odds -- and what it means to be a family. In plain-spoken prose ... Uphill Walkers has a remarkable dignity and eloquence. -- Carmela Ciuraru, USA Today Beautiful ... This is the story of a family, united by blood, pride, and the bonds that defy logic. -- Ellen Kanner, The Miami Herald Scrupulously candid and deeply compassionate.... -- Reeve Lindbergh, The Washington Post Book World.
Grove Press, 9780802138927, 272pp.
Publication Date: April 11, 2002