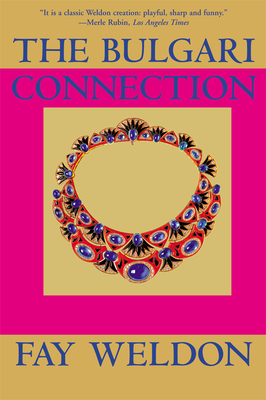 The Bulgari Connection (Weldon)
Paperback

* Individual store prices may vary.
Description
Once again the acclaimed British author of Rhode Island Blues and Big Girls Don't Cry draws us into an unmistakably wild, rollicking tale full of her trademark satirical wit and sharp observation. Grace McNab Salt is the recently divorced wife of the millionaire Barley Salt, who has married Doris Dubois, the sexy, young host of TV's Artsworld Extra. The novel opens with Grace emerging from jail where she was sent for trying to run Doris over with her Jaguar in a supermarket parking lot in an act of revenge. All three attend a London charity ball, and in typical Weldon fashion the meeting turns everyone's lives upside down. Weldon's world is one of relationships: torrid affairs, lovers' spite, and revenge. Full of clever women, breathless romance, insistent desires, and even a dose of the supernatural, The Bulgari Connection is a boisterously witty and stylish novel. The publication of The Bulgari Connection created a whirl of controversy when a front-page New York Times article revealed that Weldon received an undisclosed sum of money from the famous Italian jeweler for a prominent place in her novel. The debate about the legitimacy of commercially sponsored literature has been heating up ever since.
Grove Press, 9780802139306, 192pp.
Publication Date: September 12, 2002