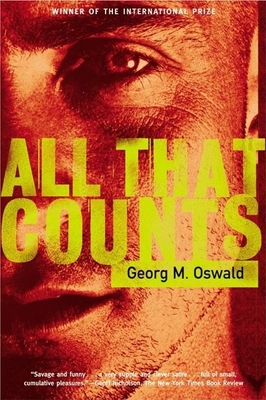 All That Counts
Paperback

* Individual store prices may vary.
Description
Winner of the prestigious International Prize and praised for its gleefully bitter prose (Los Angeles Times), All That Counts is a sardonic, fast-paced urban thriller whose hardcover publication marked the American debut of a scintillating young German writer. From the bland boardrooms of the bourgeoisie to the dark alleys of the criminal underworld, this searing contemporary satire brilliantly exposes the dangerous attraction of opportunism, loss of control, and the seedy side of life. Thirty-something and married to a public relations executive named Marianne, Thomas Schwarz is certain that he is soon to become department head of Liquidations and Foreclosures at the bank where he works. But after fumbling a particularly byzantine property case, his life begins to unravel: his female boss glibly fires him and his wife walks out. Suddenly acquainted with the giddy thrill of a life unmoored, he falls in with a cocaine-fueled crowd of money-launderers who set out to exploit him. But when the gang is busted, Thomas seizes his chance to escape with the profits and, in a final breathless move, exposes once and for all just how precarious the trappings of society really are. Clever, informed, sarcastic, and streetwise (Suddeutsche Zeitung), All That Counts is a provocative, glittering debut. Savage and funny ... a very supple and clever satire ... full of small, cumulative pleasures. -- Geoff Nicholson, The New York Times Book Review Reads like the gleeful evil twin of the self-help book. -- Richard Wallace, The Seattle Times.
Grove Press, 9780802139313, 176pp.
Publication Date: October 9, 2002