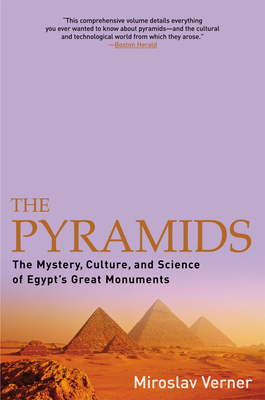 The Pyramids
The Mystery, Culture, and Science of Egypt's Great Monuments
Paperback

* Individual store prices may vary.
Description
Hailed by Science News as the new seminal text, The Pyramids is the most up-to-date, comprehensive record of Egypt's ancient monuments to become available in the last six decades. Distinguished Egyptologist Miroslav Verner draws from the research of the earliest Egyptologists as well as the startling discoveries arising from the technological advances of the 1980s and 1990s. His Pyramids offers a clear, authoritative guide to the ancient culture that created the pyramids five thousand years ago without iron or bronze, and with only the most elementary systems of calculation. As he explains the magnitude of this accomplishment, he also traces the stories and ideas of the intrepid scientists who have uncovered them. Editor's Choice ... this comprehensive volume details everything you ever wanted to know about pyramids. -- Rosemary Herbert, The Boston Herald Engaging, lucid ... Richly illustrated ... displays both a deep respect for the research of Egyptologists and a comprehensive knowledge of it... -- Kirkus Reviews Miroslav Verner ... provides an accessible introduction to the culture of the ancient Egyptians. -- Die Welt.
Grove Press, 9780802139351, 512pp.
Publication Date: October 15, 2002