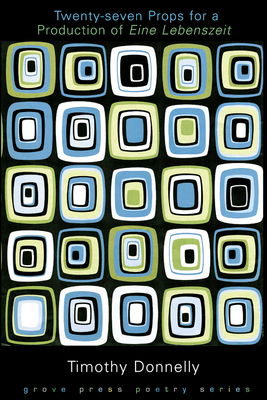 Twenty-Seven Props for a Production of Eine Lebenszeit (Grove Press Poetry)
Paperback

* Individual store prices may vary.
Description
Timothy Donnelly's poems have already garnered a following in some of America's best literary journals (The Paris Review, Ploughshares), and the long-awaited publication of his first collection of poetry will make a spectacular new addition to the Grove Press Poetry Series. Donnelly seduces the reader with his ability to summon up just about any topic, sensibility, or thought, with the self-assurance and effortlessness of a skilled master. The title poem is a brilliant expose of an imaginary play that is an allegorical rendering of a single lifetime. Donnelly imagines a stage and populates it with objects that emerge as pictorial and poetic anchors punctuating the enveloping verse. As the poem craftily weaves around these, its energy builds up to a climax that is both a luminous poetic offering and an amatory overture at the reader. In Accidental Species, he puts forth a remarkable statement about his own efforts as a poet, a humorous ars poetica (If I only had a crutch I wouldn't wobble / half so much) by way of a heartbreaking lover's complaint (The terror I inspired I am made to feel). Acclaimed by Richard Howard as brilliant and masterful, Timothy Donnelly's premiere work combines an extraordinary gift for rhetorical exuberance and syntactical intricacy with a stunning poetic maturity. For its thoughtfulness and range, for the sheer energy of its rhetoric, and for the audacity of its poetic acumen, Twenty-Seven Props for a Production of Eine Lebenszeit is a remarkable debut collection from one of our most outstanding and original young poets.
Grove Press, 9780802139573, 97pp.
Publication Date: January 9, 2003