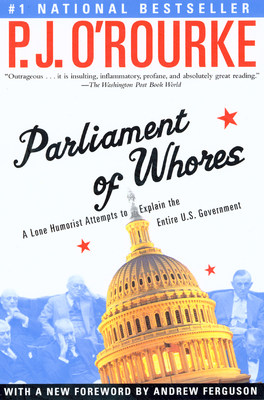 Parliament of Whores
A Lone Humorist Attempts to Explain the Entire U.S. Government (O'Rourke)
Paperback

* Individual store prices may vary.
Description
Called an everyman's guide to Washington (The New York Times), P. J. O'Rourke's savagely funny and national best-seller Parliament of Whores has become a classic in understanding the workings of the American political system. Originally written at the end of the Reagan era, this new edition includes an extensive foreword by the renowned political writer Andrew Ferguson -- showing us that although the names and the players have changed, the game is still the same. Parliament of Whores is an exuberant, broken-field run through the ethical foibles, pork-barrel flimflam, and bureaucratic bullrorfle inside the Beltway that leaves no sacred cow unskewered and no politically correct sensitivities unscorched. Highly pungent and wickedly accurate observations ... from a] boisterous, pedal-to-the-floor humorist. -- The New York Times Book Review Outrageous ... It is insulting, inflammatory, profane, and absolutely great reading. -- The Washington Post Book World A gonzo civics book ... O'Rourke is like a trophy hunter let loose in an unguarded zoo. -- Chicago Tribune.
Grove Press, 9780802139702, 240pp.
Publication Date: January 7, 2003