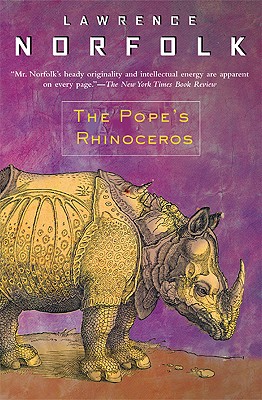 The Pope's Rhinoceros (Paperback)
Grove Press, 9780802139887, 574pp.
Publication Date: April 14, 2003
* Individual store prices may vary.
Description
The Pope's Rhinoceros is a vivid, antic, and picaresque novel spun around one of history's most bizarre chapters: the sixteenth-century attempt to procure a rhinoceros as a bribe for Pope Leo X. In February 1516, a Portuguese ship sank off the coast of Italy. The Nostra Senora de Ajuda had sailed fourteen thousand miles from the Indian kingdom of Gujarat. her mission: to bribe the "pleasure-loving Pope" into favoring expansionist Portugal over her rival Spain with the most exotic and least likely of gifts--a living rhinoceros. Moving from the herring colonies of the Baltic Sea to the West African rain forest, with a cast of characters including an order of reculsive monks and Rome's corrupt cardinals, courtesans, ambassadors, and nobles, The Pope's Rhinoceros is at once a fantastic adventure tale and a portrait of an age rushing headlong to its crisis.
or
Not Currently Available for Direct Purchase