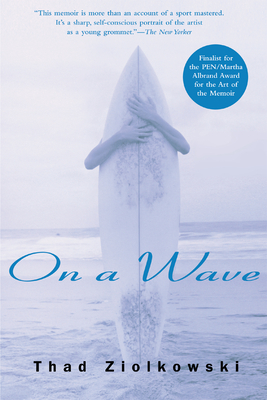 On a Wave (Paperback)
Grove Press, 9780802140012, 272pp.
Publication Date: May 6, 2003
* Individual store prices may vary.
Description
In this prizewinning poet's wry and exhilarating coming-of-age story, Thad Ziolkowski's On a Wave poignantly looks back at adolescence in a memoir of his surfing years. As a disenchanted, unemployed English professor, Thad decides one day to sneak away from his temp job in Manhattan and catch a wave off a dingy Queens shoreline. In the meager cold waves, he contemplates how he could have possibly become a semidepressed, chain-smoking, aimless man when for a few shining years of his boyhood, he was invincible. His lapsed love affair with the ocean begins amid the late-sixties counterculture in coastal Florida. After his parents' divorce, nine-year-old Thad escapes from his difficult family -- notably a new brooding and explosive stepfather -- by heading for the thrilling, uncharted waters of the local beach. In the embrace of the surf, he is able to stay offshore for years, until his life is upended once again, this time by a double tragedy that deposits him at a crossroads between a life in the waves and a life on land. Lyrical and disarmingly funny, On a Wave is a glorious portrait of youth that reminds readers of Tobias Wolff's This Boy's Life and Frank Conroy's Stop-Time.
or
Not Currently Available for Direct Purchase