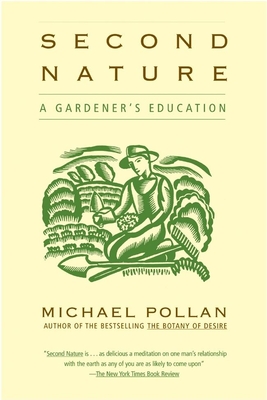 Second Nature (Paperback)
A Gardener's Education
Grove Press, 9780802140111, 320pp.
Publication Date: August 12, 2003
Other Editions of This Title:
Paperback (4/1/1992)
Hardcover (4/1/1991)
Pre-Recorded Audio Player (3/12/2010)
Paperback (4/5/1992)
Compact Disc (3/12/2010)
MP3 CD (3/24/2015)
Compact Disc (5/1/2012)
MP3 CD (5/1/2012)
MP3 CD (3/1/2010)
Compact Disc (3/1/2010)
MP3 CD (3/12/2010)
* Individual store prices may vary.
Description
In his articles and in best-selling books such as The Botany of Desire, Michael Pollan has established himself as one of our most important and beloved writers on modern man's place in the natural world. A new literary classic, Second Nature has become a manifesto not just for gardeners but for environmentalists everywhere. As delicious a meditation on one man's relationships with the Earth as any you are likely to come upon (The New York Times Book Review), Second Nature captures the rhythms of our everyday engagement with the outdoors in all its glory and exasperation. With chapters ranging from a reconsideration of the Great American Lawn, a dispatch from one man's war with a woodchuck, to an essay about the sexual politics of roses, Pollan has created a passionate and eloquent argument for reconceiving our relationship with nature.
Praise For Second Nature: A Gardener's Education…
Delightful. . . . Part autobiography, part gardening book, part intellectual odyssey. . . . [Second Nature] is a large spirited and ultimately hopeful work."Frank Levering, The Washington Post Book World

A joy to read...[Pollan] writes with humor, acerbity, magnanimity...and all those good qualities that lead to charm andone almost dares say itwisdom." Henry Mitchell, The Los Angeles Times

The best book about Americans and their gardens in decades. Second Nature reads like brilliant entertainment, but it is serious wisdom. Michael Pollanis a genuine heir to my favorite nature write, Mark Twain." Simon Schama, The Boston Globe

One of the distinguished gardening books of our time." Noel Perrin, USA Today

Second Nature isas delicious a meditation on one man's relationship with the earth as any of you are as likely to come upon." The New York Times Book Review

Deft and often dazzling about gardening, but only in the same way that Dante's Divine Comedy is about getting lost in the woods I know no book on gardening that is quite as illuminating and fascinating as this one." Allen Larcy, The New York Times

The appeal of this book is its ability to inspire readers to contemplate the meanings and implications of their gardens. Second Nature was first published in 1991. Luckily for the reader, and to Michael Pollan's credit, the book's main concepts do not become less meaningful or thought-provoking with the passage of time. Pollan's aims aren't to persuade, but to encourage us to take a second look at ourselves, our world, and our gardens." Scott Atkinson, Garden Solutions

Wonderful. . . . Pollan brings the shrewd eye of a social historian. . . . Most things in Pollan's book work upward toward metaphoreven though he takes care to root every metaphor in aerated soil, rich with the compost of organic experience." Richard Dyer, The Boston Globe

He's written a book about gardening that even nongardeners might want to read. . . . Pollan can still remember that there are readers of intelligence and curiosity whose gardening habits amount to no more than a stroll through the yard every month or so to see what's died." Malcolm Jones Jr., Newsweek

As a nongardener, I never expected to stay up late and laugh out loud at a book like this, but I've been permanently Pollan-ated." Christopher Buckley, Vanity Fair

Second Nature is to gardening what Izaak Walton's The Compleat Angler is to fishing. Combining humor, natural description, and advice, it's not so much about compost, seeds, seasons, and pests as it is about human nature." Thomas D'Evelyn, The Christian Science Monitor

Wonderful writing. . . . These elegant, lively, and impeccably crafted essays [offer] us a provocative new way of approaching our environmental problems. . . . At a time when it seems we must choose between unchecked development or no development at all, Pollan's idea of the world as a garden could offer us a way out of the wilderness." Inga Saffron, The Philadelphia Inquirer

Pollan is a hybrid-a gardener-philosopher-humorist-polemicist who has written a book that manages to amusewhile it muses, a book that lures even the non-gardener into the physical and metaphysical garden." Jocelyn McClurg, The Harford Courant

The best gardening book I have read in memory, perhaps ever. . . . [Pollan's] essays are funny and profound, elegant and basic. . . . [Second Nature] is the story of Pollan's effort to coexist with nature, forging a middle ground between allowing nature to fulfill its tendency to run rampant . . . and restraining it completely a la American suburbia and its broad, picture-perfect lawns." Nancy Brachey, The Charlotte Observer

A bounty of food for thought. . . . [Pollan] takes a deep look at our spiritual, ethical, environmental connection to the garden and land itself, philosophically exploring our attitude toward nature and wilderness and how each should be tended." Karen A. Cleath, The Tampa Tribune

A serious undertaking and an important book, a reasoned argument with Thoreau and others about the wilderness ethic and how much or little it can tell us about what our attitude toward nature ought to be." Christopher Reed, Horticulture

An important and profoundly original book. . . . A well-developed philosophy of life and nature in a technological world." Kirkus Reviews

Quirky and pleasing. . . . The debut of a fresh and provocative voice in American writing." Annie Dillard, author of Pilgrim at Tinker Creek

As a gardener, I read this charming and ultimately profound book with admiration and, I must admit, some envy; as a writer, with pleasure." Witold Rybczynski, author of The Most Beautiful House in the World

You don't have to be a gardener to love Second Nature. Pollan is a marvelous essayist: indeed he is to gardens what Lewis Thomas is to medicineexpert, witty, and original." Frances FitzGerald

In the March 24, 2008 issue of Newsweek, Alice Waters, chef and food writer of Chez Panisse fame, listed Second Nature as one of her Top Five Most Important Books," saying, A funny, wonderful teacher who takes your hand and introduces you to Mother Nature."