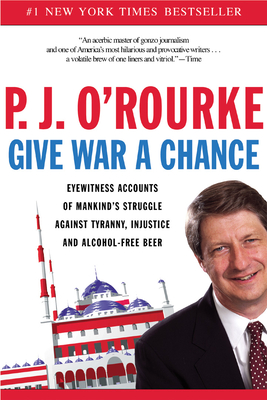 Give War a Chance
Eyewitness Accounts of Mankind's Struggle Against Tyranny, Injustice, and Alcohol-Free Beer
Paperback

* Individual store prices may vary.
Description
In the spirit of his savagely funny and national best-seller Parliament of Whores, Give War a Chance is P. J. O'Rourke's number one New York Times best-selling follow-up. O'Rourke runs hilariously amok by tackling the death of Communism, sanctimonious liberals, and America's perennial bad guy Saddam Hussein in a series of classic dispatches from his coverage of the 1991 Gulf War. Here is our most mordant and unnervingly funny political satirist on: Kuwait City after the Gulf War: It looked like all the worst rock bands in the world had stayed there at the same time. On Saddam Hussein, O'Rourke muses: He's got chemical weapons filled with ... chemicals. Maybe he's got The Bomb. And missiles that can reach Riyadh, Tel Aviv, Spokane. Stock up on nonperishable foodstuffs. Grab those Diet Coke cans you were supposed to take to the recycling center and fill them up with home heating oil. Bury the Hummel figurines in the yard. We're all going to die. Details at eleven.
Grove Press, 9780802140319, 233pp.
Publication Date: October 10, 2003