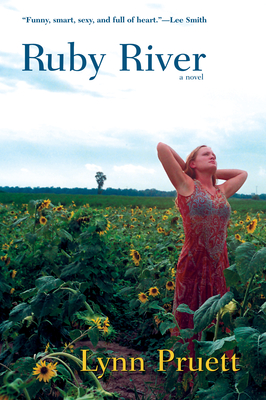 Ruby River
Paperback

* Individual store prices may vary.
Other Editions of This Title:
Digital Audiobook (4/12/2012)
Description
A sassy and exuberant debut novel, Ruby River chronicles the courage and compromises of a newly widowed mother in a small Southern town in a masterful examination of family, marriage, and community. Warm, sensuous, and hailed as "a triumph" by The Lexington Herald-Leader, Ruby River drops us into a small town during a blistering Alabama summer where Hattie Bohannon has just opened a truck stop. A magnet for transients of questionable background and inclination, and run by Hattie's nubile daughters, the truck stop is an uneasy presence in Maridoches, where the population prides itself on their fixed family values and staunch, principled lifestyle. Crackling with the energy and spark of strong, colorful characters whose lives are continually colliding, Ruby River gathers heat and tension until it culminates in a conflagration of ideologies that is as poignant as it is comical, and as heartbreaking as it is hopeful.
A widow whose husband's ashes have been lost by the Veteran's Association, Hattie exists in a limbo of unexpressed grief, trying to determine the contours of her self alone. At the same time, she must contend with the burgeoning sexuality of her strong-willed daughters, who are trying to forge their own place within their now fatherless family, and in the community at large. In a season of unrelenting heat, when caterpillar pods have infested all the trees, desire gestates and hovers over Maridoches, threatening the moral equilibrium of the small church town. When Hattie's oldest daughter, Jessamine, is falsely accused of prostitution, the Reverend conveniently declares war against the immorality of the Bohannons and their establishment, and what ensues is a clash of wills and values that will leave no one unaffected. Among the quirky residents of Maridoches are Sheriff Dodd, who pursues the ambivalent Hattie's affections, and then causes strife when his affections find another object in Jessamine; Reverend Peterson, whose magnetic wife--once his brilliant muse--is now the source of his chief frustration; Gert Guerin, a cook at the truck stop who believes it is her calling to save the souls of all those around her. Lynn Pruett deftly interweaves the struggles of Hattie, her daughters, and the surrounding community to create a tapestry of individuals desperately trying to deny the conflicting urges of flesh and spirit, progress and tradition. And flowing through the narrative, as well as the town of Maridoches itself, is the Ruby River, offering liberation for those seeking relief from the oppressive summer heat and their hawk-eyed neighbors, and inspiring irrational, overwhelming terror in those who despise what cannot be contained by neat boundaries. In the tradition of beloved contemporary writers such as Fannie Flagg and Rebecca Wells, Lynn Pruett's glorious tale--rich with the earthy wit and flavor of the south--captures the struggle for the very soul of a community suddenly forced to look at itself in a new light.
Grove Press, 9780802140395, 279pp.
Publication Date: January 20, 2004