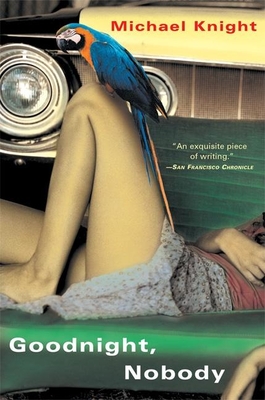 Goodnight, Nobody
Paperback

* Individual store prices may vary.
Description
This new collection from Michael Knight--PEN/Hemingway citation recipient and B&N Discover Award finalist whom Esquire praises as "a writer of the first rank"--thrills and pierces with stories of men and women of breathtaking conviction, pathos, and humor. The stories in Goodnight, Nobody demonstrate Michael Knights' exquisite and "rare power to make a setting breathe, to invest it with a vitality that seems as authentic and intense as the pulsebeats of his characters." (The New York Times Book Review) This luminous collection astutely explores rediscovered love, reconciliation, and peace amid the trials of everyday life. The denizens of Goodnight, Nobody are, like so many of us, bewildered by the circumstances in which they find themselves. The unexpected twists of their lives--rendered with expert humor and pathos in Knight's dark-light style--test the limits of the personalities they have known as their own. In "Birdland," published in The New Yorker, a beautiful Northerner visits a small Alabama town to research the bizarre migration habits of a flock of African parrots from Rhode Island. "Feeling Lucky" finds a desperate man kidnapping his own daughter. In the most daring and haunting of these stories, "Killing Stonewall Jackson," which was published in Story, a hardened band of Confederate soldiers resorts to surprising measures to survive on the battlefield. "The End of Everything," published in GQ, weaves together a tender love story and an edge-of-your-seat urban legend, while "The Mesmerist," published in Esquire, is an eerie fairy tale about a man who hypnotizes a stranger and makes her his wife. In "Keeper of Secrets, Teller of Lies," published in Virginia Quarterly Review, a man causes more havoc the harder he tries to help a young mother and her son. In "Mitchell's Girls," a stay-at-home dad battles the disrespect of youth and a paralyzing bad back. "Ellen's Book" hilariously describes the yearning a man feels for his estranged wife. In "Blackout," a suburban neighborhood's pent-up jealousies and fears explode under the cover of darkness. Knight's sensibility is potent and unique, stirring tenderness in equal parts with violence. While the settings, chronologies, and characters vary widely throughout the collection, they remain bound by Knight's simple, elegant prose, his graceful sense of humor, and an unfailing empathy with the self-destructed.

Grove Press, 9780802140555, 176pp.
Publication Date: December 3, 2003