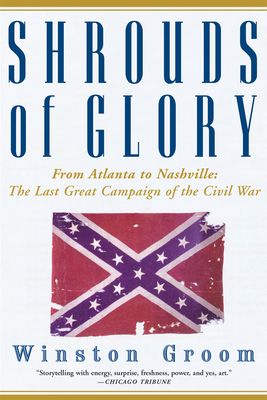 Shrouds of Glory (Paperback)
From Atlanta to Nashville: The Last Great Campaign of the Civil War
Grove Press, 9780802140616, 308pp.
Publication Date: March 5, 2004
Other Editions of This Title:
Paperback (7/1/1996)
* Individual store prices may vary.
Description
Winston Groom focuses on Confederate General John Bell Hood's decisive actions in the western theater of operations during the final moments of the Civil War. The rich narrative takes us on a journey through the ravaged South to the once-vibrant city of Nashville, where General Hood makes a last, futile attempt to preserve the Confederacy. Shrouds of Glory brings the reader into the general's tent, where Grant, Sherman, Lee, and others plot out their often unorthodox strategies for winning the war. At its center is the courageous but reckless Hood, prematurely thrust into the spotlight by a combination of destiny and fate. We witness the unlikely rise of this young Confederate, who graduated 44th out of a class of 52 at West Point, as he overcomes a nearly fatal amputation of his shattered leg and eventually devises a strategy to turn the tide of the war. From the fall of Atlanta, during which Hood assumed command, to the eventual decimation of his troops on the outskirts of Nashville, Groom presents Gen Hood and his nemeses--Union generals Sherman, Schofield, and Thomas--on their bizarre cat-and-mouse chase through Georgia and Tennessee to the horrors of the heroic charge at Franklin, where five Confederate generals died and the great Confederate army of of Tennessee marched into legend. Weaving eyewitness accounts, journal entries, military communiques, and newspaper headlines with his own straightforward narrative style, Groom constructs a meticulous and atmospheric re-creation of the war-- especially the charged battlefields where general and foot soldier alike were thrown into the fray. Groom paints vivid portraits of the major players in the conflict, revealing the character, the faults, the emotions, and most of all the doubts that molded the course of the war.
About the Author
Winston Groom is the author of eleven books, including Forrest Gump, Better Times Than These, As Summers Die, and the prize-winning Civil War history Shrouds of Glory. He served in the Vietnam War as a lieutenant with the Fourth Infantry Division. His non-fiction book, Conversations With the Enemy was nominated for a Pulitzer Prize.