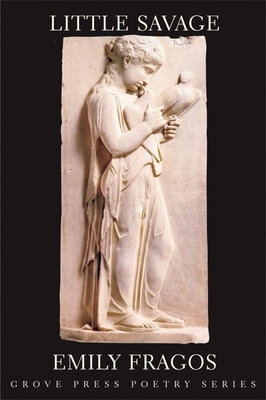 Little Savage (Grove Press Poetry) (Paperback)
Grove Press, 9780802140654, 67pp.
Publication Date: January 30, 2004
* Individual store prices may vary.
Description
With Little Savage, Emily Fragos delivers a magnificent collection in the American tradition of Robert Lowell and Elizabeth Bishop. With clean, strongly wrought lines she builds poems that are elegant and powerful. Marie Ponsot calls the collection "remarkable. What separates Fragos from her contemporaries is her amazing ability to empathize with the characters she creates--the misfits, the artists, the children kept in a fifteenth century school, the composer going mad. She convincingly becomes a young girl in the Venetian conservatory for the abandoned: "Sofia del violino. Once I saw myself / in a clear puddle of rain / water. My teeth are very crooked, I / know. We are none of us / startled by the other. We are all / the same. To Heaven." These moments ache with honesty, humility, and make us wish that every sentiment expressed by Fragos could be true. Deceptively simple poems written by an unostentatiously skilled poet, Little Savage is permeated with a reverence for nature, music, myth and dance--a veritable treasure trove of compassion and grace. Richard Howard's Foreword You are alone in the room, reading her poems. Nothing is happening, nothing wrong, but all at once, say around page 17 or 18, you hear - remember, no one is with you, no one else is there--a sigh. Or a whispered word: someone. You are not alarmed, but you had thought you were alone. Perhaps not. The sensation is what Freud used to call unheimlich, uncanny. That is the effect of the poems of Emily Fragos. Like their maker, her readers are accompanied, and not to their ulterior knowledge. It is not disagreeable to be thus escorted, attended, joined, but we had not expected it. And as Robert Frost used to tell us ("no surprise in the writer, no surprise in the reader"), Fragos too has not expected such visitations, as she will call them. This poet--these poems--endure otherness, they are haunted: "I remain, with one of everything." Even as one is being saved...conjure the army of others" "What would happen to my life when all along there has been nothing but me?" "Did you not see how I was made to feel when you put me among others" "And my body--uninhabited--suffers and wonders: whose hands are these? whose hair?" The poems will reveal whose, though I do not think Emily Fragos herself ever finds out. Inevitably, we recall that old surrealist shibboleth, "Tell me by what you are haunted and I will tell you who you are;" it can be the password to indentity. But this poet has what she calls "luxurious mind" and her ghosts are legion: Alone in my odd-shaped room, I practice
Blindness and the world floats
close and away. I am uncertain of
everything. I must walk slowly, carefully. She is acknowledging, with some uneasiness ("will you please tidy up?"), that it is not only the beloved dead, the proximate departed who are with her, who possess her, but others, any others. The remarkable thing about this poetic consciousness is that the woman's body is inhabited--sometimes with mere habitude, sometimes joyously, more often with astonishing pain--by the prolixity of the real (and of the 'unreal'); the poems are instinct with others: How dare you
Care for me when all my life
I have had this voltage to ignite
me, this rhythm to drive me,
when something inside your body
dares me to touch my hands
to yours... And quite as remarkable, of course, is the even tonality of such possession; there is nothing hysterical or even driven about the voice of the poems as it records, as it laments or exults in these unsought attendants. There is merely--merely --a loving consistency of heedfulness; and one remembers Blake's beautiful aphorism: unmixed attention is prayer. Of course such poetic staffage is not peculiar to Emily Fragos; like Maeterlinck, like Rilke, she exults in her discovered awareness: "I need the other/the way a virus/needs a host." Rather, she imbues, she infects all of us with the consciousness that there are no single souls: we are not alone.
or
Not Currently Available for Direct Purchase