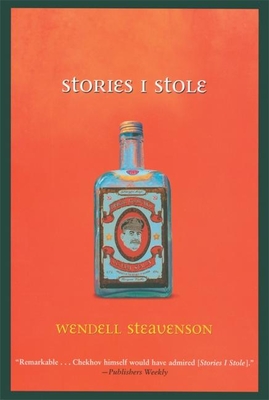 Stories I Stole from Georgia (Paperback)
Grove Press, 9780802140678, 277pp.
Publication Date: February 24, 2004
* Individual store prices may vary.
Description
Fed up with working for Time magazine in London, Steavenson moved to Georgia on a whim. Stories I Stole relates her time there in twenty vodka-fuelled episodes drawn from all over the country - tales of love, friendship and power cuts, of duelling (Georgian style), of horse races in the mountains, wars and refugees, broken hearts, fixed elections, drinking sessions and a room containing a thousand roses. Stories I Stole is a wonderful example of a writer tackling an unconventional subject with such wit, humanity and sheer literary verve that one is unable to imagine why one never learnt more about Georgia before. Stories I Stole is a magnificent first book: erudite, engaged, candid and blissfully poetic. PROLOGUE: The author visits a bizarre "Stalin theme park" culminating in the eery viewing of Stalin's death mask
SHASHLIK, TAMADA, SUPRA
The author visits Khaketi, where she is introduced to the tamada culture of "exaggerated hospitality; a point-of-honour hospitality." During a marathon toasting session at dinner she realizes "It is a kind of aggression. When they did not know you well, they filled your glass and filled it again and carefully watched how you drank it... This was the Georgian way, friend or enemy with nothing in between. History was lost in tradition, drinking a way of remembering and forgetting at the same time." SHUKI
The frustration of living with unpredictable power and water supplies during extremely cold winters; the heat and/or electricity is often turned off due to reasons ranging from sabotage, corruption, non-payment, theft, "black clan economics," and incompetence. Nevertheless this leads to a particular happiness when the light does come on. The author discovers the heavenly comfort of public baths. "Times were difficult; people had very little money. A lot of men were unemployed and all the old good professional jobs, teachers, nurses, police, engineers, were state jobs and paid less than $50 a month... Half Tbilisi owed the other half money." ETHNIC CLEANSING
The author visits Abkhazia, where a refugee has asked her to find the apartment that war caused him to flee. She finds a woman living there who is a refugee herself--after her own house was burned down, she discovered the fully furnished house in Abkhazia shortly after it was vacated, and has been living there ever since, proudly tending the garden of the previous occupant. WHO ARE THE ABKHAZ
On the beach with Shalva, whom she suspects is "Abkhaz KGB." He feeds her the party line about the Abkhaz occupation and she feels like screaming truths at him. "You won the war. You threw out all the Georgians. You have your homeland to yourselves (apart from the Armenian villages and the pockets of Russians) and what is this place? It's a black hole. There are barely any cars, barely any petrol, no factories, nothing works, no private businesses, a curfew, no salaries, barely any pensions, a shell of a university, a terrible hospital, etc. etc." But Shalva doubts that the West is paradise: "Here we have everything we need. The land is fertile." THE DUEL
The story of Dato and Aleko--they get into a car wreck and Dato's face is horribly scarred. Aleko steals Dato's wife and Dato challenges him to a fight. When Aleko beats Dato up, Dato pulls a gun and shoots the man until he is almost paralyzed. Dato, meanwhile, lives the rest of his life with his mother, hooked on heroin. "Not really Pushkin is it?" LARGE ABANDONED OBJECTS
The author drives to Abkhazia with several journalists to see incumbent Ardzinba win the presidential election (the journalists rename it the "presidential farce," since Ardzinba is the only one running. The author marvels over the abandoned relics of the USSR she sees along the roadside--rusting tractors, bits of pipline, lines of coal cars shunted and left along a rail line, etc. For her birthday, the author goes to Gorbachev's dacha, a palatial house he built but never got to inhabit because of the collapse of the Soviet Union. The house is a metaphor for the USSR: "impressive only for its sheer size but actually full of empty space and tat."