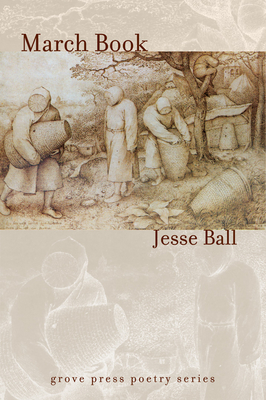 March Book (Grove Press Poetry)
Paperback

* Individual store prices may vary.
Description
March Book is a wonder and a revelation. A shockingly assured first collection from young poet Jesse Ball, its elegant lines and penetrating voice present a poetic symphony instead of a simple succession of individual, barely-linked poems. Craftsmanship defines this collection; it is full of perfect line-breaks, tenderly selected words, and inventive pairings. Just as impressive is the breadth and ingenuity of its recurring themes, which crescendo as Ball leads us through his fantastic world, quietly opening doors. In five separate sections we meet beekeepers and parsons, a young woman named Anna in a thin, linen dress and an old scribe transferring the eponymous March Book. We witness a Willy Loman-esque worker who "ran out in the noon street / shirt sleeves rolled, and hurried after / that which might have passed" only to be told that there's nothing between him and "the suddenness of age." While these images achingly inform us of our delicate place in the physical world, others remind us why we still yearn to awake in it every day and "make pillows with the down / of stolen geese," "build / rooms in terms of the hours of the day." Like a patient Virgil, insistent and confident, Ball escorts us through his mind, and we're lucky to follow.

Grove Press, 9780802141224, 101pp.
Publication Date: February 27, 2004
or
Not Currently Available for Direct Purchase