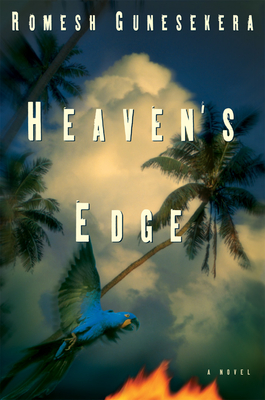 Heaven's Edge
Paperback

* Individual store prices may vary.
Description
I. NUBURN Marc arrives from London at the Palm Beach hotel, on an island that is never named but is presumably based on the author's native Sri Lanka. He is disappointed to see that poverty has made accommodations scarce and the starved attendants are surly and disdainful. He doesn't like to think of himself as a tourist, but rather a man on a spiritual mission: his grandfather Eldon, a flying instructor, was born on the island but left it when war broke out and challenged his pacifism. The grandfather expatriated to London, where he met a Caribbean ex-patriate and made a family with her, occupying himself with his love of gardening. Eventually Eldon took his son Lee back to the island to show off its natural splendors, and the home that had been destroyed. While Eldon remained happy to be gone from the culture of relentless violence and oppression that emerged there when rival colonialists withdrew and left the island to endlessly feuding warlords, his son Lee, Marc's father, was enchanted by his father's descriptions of their homeland, and to the shame of his father eventually returned there to fight as a helicopter pilot, intending to bring his son (Marc) and wife there once it was safe. He was killed in action. After discovering a videotape in which his late father showed off the island's beauty, Marc found himself drawn to it, and so it is that he ends up on an island he knows very little about. Marc tries to explore the island but is discouraged by numerous military cordons and rules preventing tourists from entering the war-torn villages. "The sense of subjugation was something I had not expected on an island infused with myth and mystery. This was a place, it seemed to me then, devoid of any joy past, present or future." Finally he wanders toward the outer ramparts of the village, and then into jungle bush, where he spots a woman who is releasing two doves. Immediately he is enchanted by her, but when he tries to converse with her, she is disdainful of the fact that he is a tourist. Eventually she disappears, leaving him to think about her all the next day, when he returns to the same spot and finds her there. He discovers that she is a "secret farmer," cultivating birds and vegetation in a secret location in order to restore the natural riches that war has stripped away. (Uva's mother "wanted these to return to a richer jungle rather than the leached scrubland that retreating global markets and distitute governments left in their wake.") In spite of having little in common-he is na ve and optimistic, while she became practical and cynical after her parents were killed by soldiers-Marc and Uva fall in love, and when Marc tells her of the paradise his grandfather often talked about, she describes a place in the south "full of butterflies and flowers," Samandia. But no one ever goes there anymore-Marc will have to "find your own Eden." Marc's innocence ends when a hotel worker he has made friends with, Nirali, is executed. Uva observes: "The sand here never stains, you know, no matter how much blood is spilled... War here, like everywhere else, was once about land and identity. But after death cloud in the south everything changed. You see we were reshaped by gangsters into new collectives held together only by conscription. Not language, not religion, not any of those outmoded notions of nation. After so many years of fighting, violence became ingrained into our way of life. So now we have only thugs for politicians and tyranny in every tribe. Killers everywhere." Indeed, eventually one of these tribes discovers and burns down Uva's secret farm and goes after her. Mercenaries storm the hotel and Uva and Marc are separated when Marc is shot with a tranquilizer dart. II. MARAVIL Marc wakes up in a prison compound, tagged in the ear in case he escapes. The prisoners get a chance to go to Maravil, a shelled-out town where he remembers Uva mentioned having a friend named Jaz who works in an underground market. In the city Marc meets a coppersmith named Kris who has a carved knife just like the one Uva had, but when he tries to converse with the man he is unresponsive. Marc locates a trader named Zeng whom he remembers Uva mentioning, and Zeng tells him to meet him under a statue after nightfall. Zeng gives Marc a card that will allow him to get into the underground market where Uva's friend Jaz works. As it turns out, Jaz is an extroverted homosexual who works at a brothel/bar and serves as lover boy to the wardens who guard the market. Jaz helps Marc break into the warden's quarters, where he looks up Uva on the database and discovers that she is probably still alive. Just then Marc and Jaz are caught by some guards, and the two barely escape a gunbattle . Remembering the knife that looked like Uva's, Marc instinctively heads for Kris, the coppersmith, who kills another soldier and flees with Marc and Jaz in a stolen cruiser as the city burns. They race toward the hills, avoiding the corrrrrrdons outside of the towns, and hide out in a cave. III. MOON PLAINS In the cave, Marc remembers his grandfather's story of how he left the island when WWII broke out, dismissing the conflicts on the island as "a military brawl between European powers that had been systematically looting the rest of the world." Instead of becoming a fighter pilot, he joined the air medical services, ferrying supplies and wounded patients into hospitals around London. He remembers the endless debates between his father and grandfather about pacifism vs. war as a means of achieving peace and freedom. The men discover an armed boy who leads them to a ravaged village of women whose men have been lost to the cause and whose children are lost to marauders. They try to learn more, but the women eventually flee in the belief that Marc, Jaz, and Kris are devils. They drive on and eventually come upon an abandoned tea factory, where they hole up, only to leave again when they fear they have been's.
Grove Press, 9780802141453, 256pp.
Publication Date: July 6, 2004
or
Not Currently Available for Direct Purchase