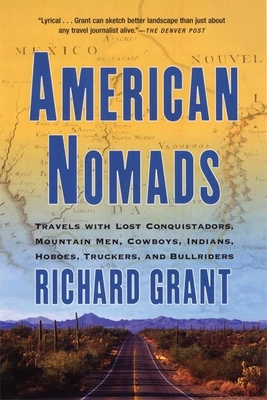 American Nomads
Travels with Lost Conquistadors, Mountain Men, Cowboys, Indians, Hoboes, Truckers, and Bullriders
Paperback

* Individual store prices may vary.
Description
Fascinated by the land of endless horizons, sunshine, and the open road, Richard Grant spent fifteen years wandering throughout the United States, never spending more than three weeks in one place and getting to know America's nomads ? truckers, tramps, rodeo cowboys, tie-dyed concert followers, flea market traders, retirees who live year round in their RV?s, and the murderous Freight Train Riders of America (FTRA). In a richly comic travelogue, Grant uses these lives and his own to examine the myths and realities of the wandering life, and its contradiction with the sedentary American dream.
Along with a personal account, American Nomads traces the history of wandering in the New World, through vividly told stories of frontiersmen, fur trappers and cowboys, Comanche and Apache warriors, all the way back to the first Spanish explorers who crossed the continent. What unites these disparate characters, as they range back and forth across the centuries, is a stubborn conviction that the only true freedom is to roam across the land.

Grove Press, 9780802141804, 320pp.
Publication Date: January 7, 2005
or
Not Currently Available for Direct Purchase