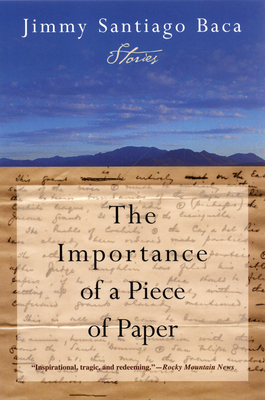 The Importance of a Piece of Paper
Stories
Paperback

* Individual store prices may vary.
Description
In his first foray into short fiction, award-winning poet and memoirist Jimmy Santiago Baca explores the territory where old-world traditions meet new-world ambitions, and characters try to make something of themselves, while keeping their souls intact. In Matilda's Garden, an old farmer pines for his wife of fifty years who died in her sleep one night months before. He is lured to the garden in the middle of the night by what he thinks is her presence, only to meet a gruesome fate. In The Importance of a Piece of Paper, two siblings must face the brother who has betrayed them by selling his share of the family land, leaving an entire community vulnerable. In The Three Sons of Julia, a long-suffering mother whose one request is that all her sons come home for the fourth of July, watches her dream burst as two of her sons-one a successful businessman and the other a hard-drinking ex-con-nearly destroy her house, and each other. Merging a refreshing innocence with a profound understanding of the world's brutality, The Importance of a Piece of Paper is a daring and arresting work that is at once fearless, tender, and inspiring.
Grove Press, 9780802141811, 240pp.
Publication Date: January 10, 2005