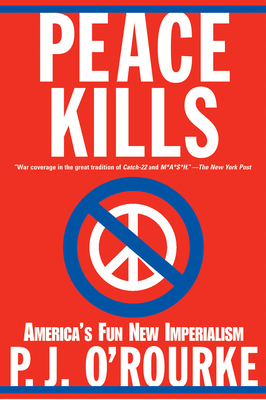 Peace Kills: America's Fun New Imperialism (Paperback)
America's Fun New Imperialism
Grove Press, 9780802141989, 224pp.
Publication Date: April 5, 2005
Description
As the "Los Angeles Times has hailed, "When it comes to scouting the world for world-class absurdities, P.J.O'Rourke is the right man for the job." With his latest national best-seller, "Peace Kills, P.J. casts his ever-shrewd and mordant eye on America's latest adventures in warfare. Imperialism has never been more fun. To unravel the mysteries of war, O'Rourke first visits Kosovo to find out what happens when we try to have one without hurting anybody: "Wherever there's injustice, oppression, and suffering, America will show up six months later and bomb the country next to where it's happening." He travels to Israel at the ourbreak of the intifada. He flies to Egypt in the wake of the 9/11 terrorists' attacks and contemplates bygone lunacies. "Why are the people in the Middle East so crazy? Here, at the pyramids, was an answer from the earliest days of civilization: People have always been crazy." He covers the demonstrations and the denunciations of war. "French ideas, French beliefs, and French actions form a sort of lodestone for humanity. A moral compass needle needs a butt end. Wherever direction France is pointing--toward collaboration with Nazis, accommodation with communists, existentialism, Jerry Lewis, or a UN resolution veto--we can go the other way with a quiet conscience." Finally he arrives in Baghdad with the U.S. Army and, standing in one of Saddam's palaces, decides, "If a reason for invading Iraq was needed, felony interior decorating would have sufficed." "Peace Kills is P. J. O'Rourke as both incisive reporter and absurdist, relevant and irreverent, with a clear eye for everyone's confusion, including his own. O'Rourke understands that peace is sometimes one of themost troubling aspects of war.
Advertisement