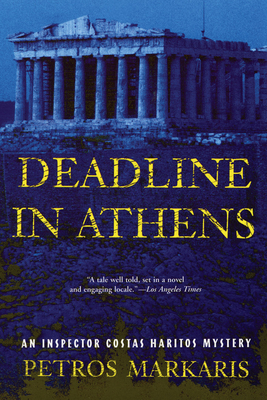 Deadline in Athens
An Inspector Costas Haritos Mystery
Paperback

* Individual store prices may vary.
Description
When an Albanian husband and wife are found dead in their home, Inspector Costas Haritos, a veteran junta-trained homicide detective on the Athens police force, is called to what seems at first to be an open-and-shut case. For the Greek police, two dead Albanians are hardly a matter of concern. But when Albania's celebrity television news reporter Janna Karayoryi insists that the case was closed too early, Haritos becomes unnerved. He doesn't exactly like the ambitious young journalist, but could she be right in thinking the murder has something to do with babies?
Before Haritos can find out, Janna is suddenly murdered, moments before she is to go on the air with a startling newsbreak. Did her mysterious report have something to do with the murdered Albanians? Who wanted her silenced, and why? Caught between a bumbling junior officer and higher-ups all too easily influenced by news executives determined to protect their own, Costas Haritos sets out to get to the bottom of the matter-and ends up neck deep in a dark form of capitalism that has emerged in Albania after the dictatorship.
Grove Press, 9780802142078, 304pp.
Publication Date: June 30, 2005