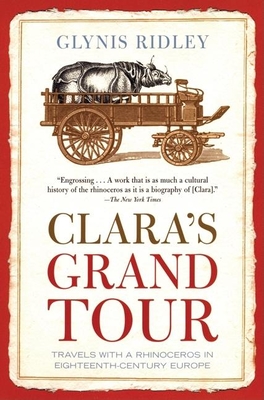 Clara's Grand Tour
Travels with a Rhinoceros in Eighteenth-Century Europe
Paperback

* Individual store prices may vary.
Description
In 1741, an enterprising Dutch sea captain transported a young, female Indian rhinoceros from Assam to Europe where she was displayed before everyone from peasants to princes. In an age before railways and modern roads, the three-ton Clara traveled in an enormous coach drawn by eight horses. She journeyed across mainland Europe and Britain for 17 years, becoming a favorite of Frederick the Great and Louis XV. She modeled for scientific portraits and etchings; she inspired poems, songs, and fashions; and she was duly immortalized in everything from tin coins to the finest porcelain. Awarded the prestigious Institute of Historical Research Prize, Glynis Ridley's sparkling history brings Clara's tragicomic story vividly to life. Clara's Grand Tour is also a portrait of an era that saw the rhinoceros as both an object of marvel and a challenge to fundamental philosophical and theological beliefs.
Grove Press, 9780802142337, 240pp.
Publication Date: November 29, 2005