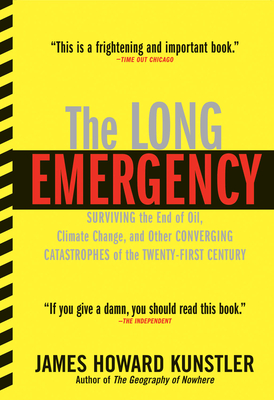 The Long Emergency
Surviving the End of Oil, Climate Change, and Other Converging Catastrophes of the Twenty-First Cent
Paperback

* Individual store prices may vary.
Other Editions of This Title:
Hardcover (4/1/2005)
Description
A controversial hit that sparked debate among businessmen, environmentalists, and bloggers, The Long Emergency by James Howard Kunstler is an eye-opening look at the unprecedented challenges we face in the years ahead, as oil runs out and the global systems built on it are forced to change radically.
Praise For The Long Emergency: Surviving the End of Oil, Climate Change, and Other Converging Catastrophes of the Twenty-First Cent…
It used to be that only environmentalists and paranoids warned about the world running out of oil and the future it could bring: crashing economies, resource wars, social breakdown, agony at the pump. Not anymore. . . . America's dependence on oil is too pervasive to undo quickly, [Kunstler] warns. . . . In the meantime, we'll have our hands full dealing with . . . the soaring temperatures, rising sea levels and mega-droughts brought by global climate change. Not long ago, a Jeremiah like Kunstler would have been dismissed as a kook. . . . As brilliant as it is baleful . . . and we disregard it at our peril." The Washington Post

This is a frightening and important book." Time Out Chicago

If you give a damn, you should read this book." Colin Tudge, The Independent

What sets The Long Emergency apartis its comprehensive sweepits powerful integration of science, technology, economics, finance, international politics and social change, along with a fascinating attempt to peer into a chaotic future. Kunstler is such a compelling and sometimes eloquent writer that the book is hard to put down." American Scientist

[A] popular blueprint for surviving the end of oil." Paul Greenberg, The New York Times Book Review

Funny, irreverent, and blunt." The Globe and Mail

An especial strength of this book is its break with some of the more pernicious strands in the contemporary left, specifically the left's kneejerk rejection of America acting militarily in its national interest. . . . There are hints of Malthus here, and of Oswald Spangler's Decline of the West as well. Mr. Kunstler's book is a jeremiad, driven by authorial presence. Pithy, entertaining descriptions of historical phenomena like the Soviet Union . . . enliven the text, allowing the veteran commentator to expound on themes that might read leaden by a less facile wordsmith. . . . The book succeeds as an accessible primer to a looming crisis that could end the American way of life." A.G. Gancarski, Washington Times

Kunstler is an amusing and engaging observer and polemicist, and the terrain he surveys is unforgiving and perilous." Robert Birnbaum, The Morning News

Novelist and journalist James Howard Kunstler is the leading popular voice of peak oil, the theory that says we have gone through more than half the world's supply of this much-needed resource. Kunstler's regular Monday morning posts foretell a world beset by oil shortages, which he believes will lead to everything from financial shenanigans (sound familiar?) to food riots, not to mention attacks on the wealthy, abandoned suburban housing developments and a forced return to small-town living." Helaine Olen, Portfolio

Kunstler displays a kind of macabre wit about the unpleasantness and strife that await us all. . . . His assertions have a neat way of doubling back to anticipate your critiques. If you express doubt about his views, then you may well be among the deluded masses too addicted to your McSUV and McSuburb to accept the reality that lies ahead."
Katharine Mieszkowski, salon.com

Kunstler is America's version of an Old Testament prophet, a stinging social critic who warns of dark days ahead if we do not change the way we live." Brian Kaller, Pulse

Kunstler's book was shockingly readable and engaging.He covers a vast array of topicsI felt like I'd taken a crash course on Big Oil, Global Warming, and Geopolitics just to name a few."Romi Lassally, Huffington Post

James Howard Kunstler's The Long Emergency may be destined to become the Dante's Inferno of the twenty-first century. It graphically depicts the horrific punishments that lie ahead for Americans for more than a century of sinful consumption and sprawling communities, fueled by the profligate use of cheap oil and gas. Its central messagethat the country will pay dearly unless it urgently develops new, sustainable community-scale food systems, energy sources, and living patternsshould be read, digested, and acted upon by every conscientious U.S. politician and citizen." Michael Shuman, author of Going Local: Creating Self-Reliant Communities in a Global Age

If you give a damn, you should read this book." Colin Tudge, The Independent (UK)

Kunstler concentrates on the continuing environmental instability and the political consequences of the fuel cessation in equal bouts and this makes for a well rounded argument." Buzz (UK)

In the annals of doomsday literature . . . The Long Emergency is destined to become the new standard. . . . Demands frank consideration of what up to now has been unthinkable: that the ascendancy of the human race might have been a temporary phenomenon. . . . This case has been made before, but here it is made powerfully and articulately, with no apology and no hint of reprieve. . . . The Long Emergency represents a wake-up call' in the same sense that a hand grenade tossed through your bedroom window might serve as an alarm clock. The book is stark and frightening. Read it soon." Jim Charlier, Daily Camera

A shrewd and engaging social commentator." Sierra Atlantic

Adds a relentless, scary, and entertaining voice to the rising alarm about life after the cheap oil is gone. . . . The internal logic of the argument is persuasive, and one reads . . . the book with white knuckles." Bryant Urstadt, technologyreview.com

Authoritative and eye-opening. His predictions for the future make for a page-turning Brave New World.'" T-D (London)

James Howard Kunstler has given us, with his usual engaging wit and verve, a new kind
of post-apocalypse scenario. Instead of the nuclear or ice-age wasteland of our earlier imaginings, he has depicted with detailed extrapolation the civilization of the United States after the oil runs out and a great economic collapse occurs. It is a strangely arcadian vision, like the agrarian America that Jefferson, Calhoun, and the Southern Agrarians dreamed of. But Kunstler has fleshed it out with delightful quirky insights and provided our science fiction writers with a fresh mise-en-scene." Frederick Turner, author of The New World and The Culture of Hope
Grove Press, 9780802142498, 324pp.
Publication Date: March 2, 2006