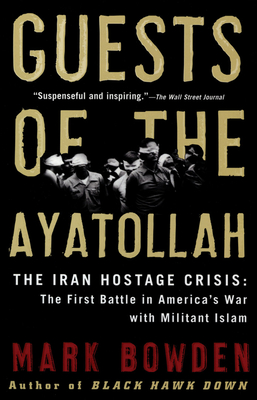 Guests of the Ayatollah
The Iran Hostage Crisis: The First Battle in America's War with Militant Islam
Paperback

* Individual store prices may vary.
Other Editions of This Title:
Digital Audiobook (4/24/2006)
Paperback (5/1/2007)
Hardcover (3/1/2006)
Description
From the best-selling author of Black Hawk Down comes a riveting, definitive chronicle of the Iran hostage crisis, America's first battle with militant Islam. On November 4, 1979, a group of radical Islamist students, inspired by the revolutionary Iranian leader Ayatollah Khomeini, stormed the U.S. embassy in Tehran. They took fifty-two Americans hostage, and kept nearly all of them hostage for 444 days. In Guests of the Ayatollah, Mark Bowden tells this sweeping story through the eyes of the hostages, the soldiers in a new special forces unit sent to free them, their radical, na ve captors, and the diplomats working to end the crisis. Bowden takes us inside the hostages' cells and inside the Oval Office for meetings with President Carter and his exhausted team. We travel to international capitals where shadowy figures held clandestine negotiations, and to the deserts of Iran, where a courageous, desperate attempt to rescue the hostages exploded into tragic failure. Bowden dedicated five years to this research, including numerous trips to Iran and countless interviews with those involved on both sides. Guests of the Ayatollah is a detailed, brilliantly re-created, and suspenseful account of a crisis that gripped and ultimately changed the world.
Praise For Guests of the Ayatollah: The Iran Hostage Crisis: The First Battle in America's War with Militant Islam…
A riveting account of the 444-day Iran hostage crisis of 1979. . . . Bowden's latest will tempt readers to keep turning the pages. Altogether excellent -- and its revelations of back-channel diplomatic dealings are newsworthy."  -- Kirkus Reviews (starred review)

Suspenseful, inspiring, mordant and, perhaps most of all, affectionate toward those who had to endure such trying circumstances. He shows unfailing respect for the hostages, many of whom gave him extensive, intimate and at times embarrassing access to their memories. Mr. Bowden lets you feel, above all else, the fear and anger of the Americans during their long imprisonment. . . . Bowden performs a great service by pulling us back in time, to the dawn of an awful age when America was low and radical Island triumphant." Reuel Marc Gerecht, The Wall Street Journal

Bowden does a good job of describing the divergent orbits of Iran and the West. Iran's revolutionary regime seems to know it cannot survive in any kind of normal atmosphere, and America seems too vengeful to accept that Iran may have legitimate grievances over American actions in the Middle East. The hostage crisis epitomised that divide." The Economist

More than 26 years later, the siege of the embassy might seem like irrelevant history to those who know little or nothing about it. As talented journalist Mark Bowden shows, the standoff involving 52 American hostages is anything but irrelevant." Steve Weinberg, San Francisco Chronicle

Bowden's mammoth feat of reportage on the Iranian hostage crisis of 1979-81 is essential reading . . . Bowden shows unparalleled skill in constructing an omniscient and engrossing narrative based on an almost daily account of the plight of the hostages, behind-the-scenes political machinations, and the planning of a rescue mission. A." Gilbert Cruz, Entertainment Weekly

[A] riveting . . . masterfully told tale . . . Bowden skillfully gets inside the minds of the hostages, vividly describing their churning emotions and harrowing experiences. Fans of the author of Black Hawk Down and Killing Pablo will see plenty of classic Bowden here: meticulous reporting backed by a compelling narrative . . . Bowden skillfully evokes the era and the ordeal." Afshin Molavi, The Washington Post

Bleakly compelling . . . [Bowden] writes about events in a way that gives a clear picture of both high-level decision making and the price paid by people on the ground. . . . And 26 years after the [hostage crisis] the passions of the moment still reverberate. In Bowden's book, you can feel them on every page." Richard Lacayo, Time

Mark Bowden is a master storyteller, exceptionally skilled at placing military and political events in a meaningful context. Thus, Guests of the Ayatollah may be his most timely and valuable work to date. . . . A must read." Edward A. Turzanski, The Philadelphia Inquirer

Heart-stopping, and heart-breaking." James Traub, New York Times Book Review

A refreshingly lively account . . .Bowden won praise a few years back for Black Hawk Down, a gritty and up-close account of U.S. combat in Somalia in October 1993. Much of [Guests of the Ayatollah] is similarly gritty and up close. . . . But this time, Bowden pulls his account back from time to time to give the larger picture . . . Bowden's skill turns bad news into good reading." Harry Levins, St. Louis Post-Dispatch

Bowden reaffirms his role as tough-guy Cassandra with this heft replay of the hostage crisis in Iran that began in 1979. . . . [Guests of the Ayatollah is] made essential by continuing American-Iranian tensions." Janet Maslin, The New York Times

Bowden's account excels at describing the unfolding drama of the individual hostages. . . . This s a powerful and probably definitive history that deserves a large audience." Christopher Willcox, The New York Sun

Gripping a genuine pleasure to read Bowden's look back at Jimmy Carter's Iran policy gives the book its particular political relevance. Certain similarities with the dilemmas of America's current Iran policy are impossible to overlook." Matthias Kuntzel, Policy Review

Bowden is a courageous and methodical journalist and gifted storyteller.He weaves a maddeningly complicated heap of recollections, emotions and facts into a coherent, credible and engaging account.It is a timely addition to our collective knowledge about America and Iran's shared, though painful, history." Brian Palmer, Newsday

Just as he did with his account of the desperate battle that waged between American forces and Islamic fighters in Somalia in Black Hawk Down, Mark Bowden takes his readers inside the actionand inactioninside the hostage crisis in Guests of the Ayatollah." Tom Walker, Denver Post

A thriller." Richard Willing, USA Today

Mark Bowden is a master of calamity, and he will have readers chewing their nails like teenagers as they read Guests of the Ayatollah. . . . Yet Bowden does more than spin a good yarn . . . He nails the moment at which radical Islamists first learned they could use terror and anti-Americanism to immobilize the West and claim victory over domestic rivals." Elizabeth Cobbs Hoffman, San Diego Union Tribune

An impressive piece of narrative journalism." Michael B. Farrell, Christian Science Monitor

Readers may wonder why they should read a blow-by-blow account of an event so widely reported so long ago. But as the story unfolds, illuminated by journalist Mark Bowden's meticulous reporting and measured prose, what seems familiar is suddenly fresh. The significance crystallizes. Uncannily, the events prefigure those of the post-Sept. 11 era: the initial why do they hate us?' shock; the impotent outrage; the sense that we suddenly faced a baffling and unexpected threat, and that harsheven recklessmeasures were needed to confront it. It was, in retrospect, a defining moment for the United States." Douglas Birch, The Baltimore Sun

A very good book . . . A complex story full of cruelty, heroism, foolishness and tragic misunderstandings." Len Barcousky, Pittsburgh Post-Gazette

One of Bowden's accomplishments is conveying simultaneously the often boring daily-ness of the hostages' lives, while building melodrama about whether they will undergo torture, die or survive to return to loved ones across the United States.Bowden draws conclusions from is extensive research, conslusions that might become controversial but that surely provide lots of grist for thought." Steve Weinberg, The Seattle Times

Guests of the Ayatollah may be the most revealing book ever written about desperate hostages on the brink." Ike Seamans, The Miami Herald

Americans are told over and over that 9/11 changed everything and, in important ways, it did. But as Mark Bowden points out in this monumental piece of research, writing and reasoning, they might give 11/4 some consideration, too. On that date, Nov. 4, 1979, a ragtag band of Iranian militants, most of them students, invaded the sprawling United States embassy in downtown Tehran and seized everyone inside as hostages. . . . Bowden does a prodigious job, telling an important story , and barring the unlikely, nobody will ever tell it better." Bill Bell, New York Daily News

Bowden offers lessons applicable to global politics today." Vikas Turakhia, Cleveland Plain Dealer

A superbly readable and surprisingly suspenseful account.A master storyteller." David Forsmark, Front Page Magazne

A magisterial work of historical journalism. It should instantly become the definitive account of an event that ruined the Carter presidency, confirming the Iranian theocracy, emboldened a generation of Islamic radicals, spurred Saudi Arabia's aggressive promotion of Sunni Wahhabismand presaged the central challenge to post-Cold War U.S. foreign policy. It is also a crackling bit of storytellingBowden has an almost Tom Wolfeian flair for detail and a knack for shaking every last recollection, however awkward or discomforting, out of his subjects.the prose is gripping He humanizes the U.S. captives in a manner that is both poignant and baldly frank." Duncan Currie, The National Review

Riveting drama and telling detailIt is a masterful account that includes its share of revelations, but never veers far from the intensely personal stories that took place behind the scenes.Seems destined for lofty residence on the summer's best-seller lists, further cementing Bowden's reputation as one of America's finest print journalists." John Marshall, The Seattle Post-Intelligencer

A prodigious achievement in reporting.Compelling." Craig McLaughlin, Arkansas Democrat-Gazette

This remarkably well-done book represents a new pinnacle in Bowden's career as the finest narrative journalist working today. All the skills on display in his previous booksare showcased in this one, but Bowden has created a substantially more sweeping and sophisticated work than his earlier projects.He is meticulous and detail-oriented without dwelling on the irrelevant or boring, and thorough in his exploration of people and events without sacrificing the pace of the story. Bowden is a virtuoso storyteller." Noah Pollak, Azure

A good and important book." Ed Graziano, Richmond Times Dispatch

Written like a novel and shot through with page-turning suspense. The amount of research and reporting that must have gone into it are awe-inspiring."Michelle Goldberg, New York Observer

"Daring and masterful. Bowden, a veteran journalisthas accomplished a monumental task.'Guests of the Ayatollah' is much more than simply a historical retrospective. It also serves as a cautionary tale about the furies of militant Islam that have swept over the Middle East during the past half-century. In the process, Bowden's masterpiece hammers home a crucial point: the War on Terror did not begin on 9/11. Rather, the battle had been joined more than two decades earlier, with the establishment of the Islamic Republic of Iran." Ilan Berman, The New York Post

Bowden has a penchant for the dramatic tableauA page-turner." Evan Wright, Los Angeles Times

Penetrating chronicleAn indispensable account." Lester Pimentel, Newhouse News Service

Bowden's analysis of militant Islam is clear, current and dead-on. The government of Iran, now as then, is a theocracy with a secular face, combining, he writes, ignorance with absolute conviction.' Anyone who thinks a nuclear-armed Iran could be dealt with through Cold War-style containment should read this book.... All in all, Guests of the Ayatollah is a monumental piece of reportage, deserving a wide readership." Philip Caputo, Publishers Weekly (starred review)

Bowden mixed his newspaperman's skillswith his gift for novel-like narrative. The resulting story is not only suspenseful but revelatory as well." Marcela Valdes, Publishers Weekly
Grove Press, 9780802143037, 680pp.
Publication Date: March 13, 2007
or
Not Currently Available for Direct Purchase