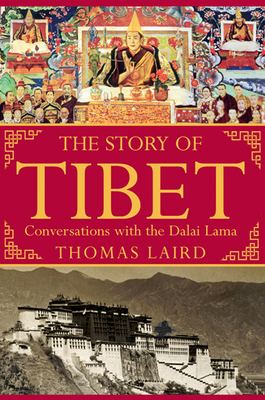 The Story of Tibet
Conversations with the Dalai Lama
Paperback

* Individual store prices may vary.
Description
Over the course of three years, journalist Thomas Laird spent more than sixty hours with His Holiness the Dalai Lama in candid, one-on-one interviews that covered history, science, reincarnation, and Buddhism. Laird brings these meetings to life in rich, vibrant, and monumental work that outlines the essence of thousands of years of civilization, myth, and spirituality. Tibet's story is rich with tradition and filled with promise. It begins with the Bodhisattva Chenrizi ("The Holy One") whose spirit many Tibetans believe resides within the Dalai Lama. We learn the origins of Buddhism, and about the era of Great Tibetan Emperors, whose reign stretched from southwestern China to Northern India. His Holiness introduces us to Tibet's greatest yogis and meditation masters, and explains how the institution of the Dalai Lama was founded. Laird explores, with His Holiness, Tibet's relations with the Mongols, the Golden Age under the Great Fifth Dalai Lama, Tibet's years under Manchu overlords, modern independence in the early twentieth century, and the Dalai Lama's personal meetings with Mao just before His Holiness fled into exile in 1959. The Story of Tibet is "a tenderly crafted study that is equal parts love letter, traditional history, and oral history" (Publishers Weekly).
Grove Press, 9780802143273, 496pp.
Publication Date: October 10, 2007