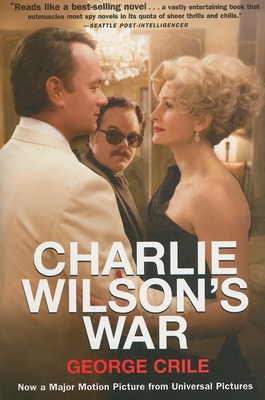 Charlie Wilson's War
The Extraordinary Story of How the Wildest Man in Congress and a Rogue CIA Agent Changed the History of Our Times
Paperback

* Individual store prices may vary.
Other Editions of This Title:
Paperback (4/22/2004)
Hardcover (4/16/2003)
Compact Disc (9/1/2003)
Compact Disc (10/1/2007)
MP3 CD (10/1/2007)
Audio Cassette (10/1/2003)
Audio Cassette (10/1/2007)
Description
It's common knowledge that the U.S. armed the Afghans in their fight against the Soviet Union, but until now, the fact that this was possibly the biggest, meanest covert operation in history has been absent from press reports. In one of the most detailed descriptions of a CIA operation every written, the bizarre twists and turns of the full story are told in CHARLIE WILSON'S WAR. Veteran 60 Minutes producer George Crile explains how one Congressman was able to provide the CIA with hundreds of millions of dollars to fund the Afghan program, dwarfing the price tag for arming the Nicaraguan Contras that occurred at virtually the same time. "The scope and nature of this campaign has still not registered in the consciousness of most Americans," Crile writes in the book's Epilogue. "Nor is it understood that such secret undertakings inevitably have unforeseen and unintended consequences which, in this case, remain largely ignored." When Crile produced his first story about Texas Congressman Charlie Wilson for 60 Minutes in 1989, he too underestimated the vastness of the program and its consequences. It was a later trip to the Arab world with Wilson, the Wilson's "princely" reception, and the events of 9/11 that opened his eyes to the far bigger picture of CHARLIE WILSON'S WAR. Among the book's more startling revelations: - By the latter years of the 1980s the CIA was not just providing arms to a half million Afghans, it had taken 150,000 of them and transformed them into what it called a force of "techno holy warriors." "From today's perspective," Crile observes, "that may seem more than a bit ill advised-particularly when you factor in the specialized training in urban warfare that the Agency sponsored to include the use of pipe bombs, bicycle bombs, car bombs, camel bombs, along with a host of other tactics to wreak havoc with the army of a modern superpower." - The United States continued to fund the Afghan rebels long after the withdrawal of the Soviet Union. Incredibly, the subsidies continued despite the fact that one of the most important mujahid leaders sided with Saddam Hussein in the Gulf War. - In addition to $200 million in aid from the U.S. and $200 million from Saudi Arabia, in 1991 and 1992 the rebels received Iraqi weapons captured by U.S. forces during the Gulf War. At the same time, the Berlin Wall came down and the Soviet Union ceased to exist. The Cold War was effectively over but what began as a war against Communism was continuing to be funded. "The question that has puzzled so many Americans: 'Why do they hate us?' is not so difficult to understand if you put yourself into the shoes of the Afghan veterans in the aftermath of the Soviet departure," Crile says. To them, the real superpower in their struggle was Allah. The United States eventually cut off its support in the 1990s. In the Afghan's minds, Allah did not. CHARLIE WILSON'S WAR is nothing short of a critical missing chapter in our political consciousness. Without a clear understanding of its impact, it may be impossible to comprehend the two world changing events that shook the United States on either side of the millennium: the sudden and mysterious collapse of the Soviet Union and the equally inexplicable appearance of a new global foe in the form of militant Islam. At its core, it tells of an unorthodox alliance-of a scandal-prone Texas Congressman named Charlie Wilson and an out-of-favor CIA operative named Gust Avrakotos-that armed and sustained the Afghan jihad and turned Afghanistan into the Soviet Union's Vietnam. "The origins of this book go back to a time when the Afghans were viewed by most everyone in the U.S. government as freedom fighters and allies against a common foe," Crile writes in the Epilogue. In 1988, Crile produced a 60 Minutes profile of Wilson that he now realizes barely scratched the surface of this fascinating story. Later, while, accompanying Wilson on a trip to Kuwait, Iraq, Saudi Arabia, Pakistan and Afghanistan just prior to the first Gulf War, Crile was amazed at the "princely" reception accorded Wilson in the Arab world. "The trip was just the beginning of a decade-long odyssey uncovering the many dimensions of the CIA's Afghan War," he recalls. "In short order I realized that it had been anything but a typical CIA program." As incredible as anything in the pages of Tom Clancy or John le Carr , CHARLIE WILSON'S WAR is a gripping story of international intrigue, booze, drugs, sex, high society and arms deals. Between its covers, we meet: - The charismatic Congressman Charlie Wilson. While Ronald Reagan and William Casey were unable to persuade Congress to fund the Nicaraguan Contras, Wilson was procuring hundreds of millions of dollars to support his Afghan "freedom fighters" through back-room machinations that would have made even LBJ blush. A colorful man of many contradictions, he worked hard and played hard, earning the reputation as the "wildest man in Congreeeeeess" while representing an archconservative Bible-belt district in Texas. - The out-of-favor CIA operative, Gust Avrakotos, whose working-class Greek-American background made him an anomaly in the patrician world of American spies. Nicknamed "Dr. Dirty", this blue collar James Bond was an aggressive agent who served on the front lines of the Cold War where he learned how to stretch the Agency's rules to the breaking point. - The eccentric staff of CIA outcasts hand-picked by Avrakotos to run the operation. Among them were "Hilly Billy", the logistics wizard who could open an un-numbered Swiss bank account for the U.S. government in 12 hours when others took months; Art Alper, the "devilish" tinkerer from the Technical Services division who roamed the world creating such novelties as exploding typewriters and developed portable amplifiers that spread propaganda among the Soviet troops; and especially Mike Vickers, the former Green Beret so junior in status that he couldn't send his own cables. His military genius allowed him to single-handedly redesign the CIA's war plan. Through his highly specific blueprint, he created a systematic plan that turned a rabble of shepherds and tribesmen into an army of techno Holy warriors who gave the legendary Red Army their greatest defeat. Today, Mike Vickers is consulting for the Pentagon on the War on Terrorism and war planning for Iraq.
The many women who shared the Congressman's jihad. It all began with a Houston socialite, Joanne Herring who enlisted Wilson to the Afghan cause via her deep-seated hatred of Communism and her influence in Pakistan. Carol Shannon, Wilson's personal belly dancer who he took with him to the jihad. Charlie's Angels, Wilson's female staffers so strikingly beautiful that they became a legend on Capitol Hill. And finally, Annelise Illschenko, aka "Sweetums", the former U.S. representative in the Miss World competition who traveled with Wilson deep into the Islamic world in outfits that were not the most appropriate attire in the eyes of Muslim men - The Pakistani dictator Zia ul Haq, who early on realized that the way to millions of dollars in American aid was through Charlie Wilson and his covert war in Afghanistan. A dictator whom many held personally responsible for the execution of his democratically elected predecessor, Zia used his favorable status as an ally of the U.S. against the Soviets to divert attention from his own nuclear weapons program while providing the all-important safe haven and operations center for the CIA's Afghan operations . CHARLIE WILSON'S WAR is the CIA and Congress as they have never been seen before, engaged in the last great battle of the Cold War. This is a book that has direct implications for today's world situation.

Praise For Charlie Wilson's War: The Extraordinary Story of How the Wildest Man in Congress and a Rogue CIA Agent Changed the History of Our Times…
A vivid narrative. . . . Charlie Wilson's War is a behind-the-scenes chronicle of a program that is still largely classified. . . . In its time there was little dispute that the covert war was one of the most successful C.I.A. operations ever undertaken. . . . Few people who remember Wilson's years in Washington would discount even the wildest tales." David Johnston, The New York Times Book Review

Irresistible. . . . [A] thoroughly reported, painstakingly detailed and calmly written account. . . . The story of this odd and world-shaping partnership really can't be believed until Crile and his thorough reporting gradually make it clear that yes, it all really happened. Crile also sketches a variety of other figures in this drama with an eye for what makes them strange and interesting." Steve Kettman, The San Francisco Chronicle

Charlie Wilson's War is one of the most important books ever written about U.S. government covert operations. . . . [It's] such a sprawling tale that describing it adequately in a brief review is daunting." Steve Weinberg, The Seattle Times

Vibrant storytelling. . . . Crile reveals in extraordinary detail the over-the-top, under-the-table machinations of Wilson, one of Capitol hill's ablest political bulldozers, as he spearheaded what eventually became known as the Soviets' Vietnam. . . . [Charlie Wilson's War] offer[s] an entirely new take on Reagan-era history with international sweep and modern implications, neatly laid over the intriguing, untold inner workings of [the CIA]." Jan Jordan, The Houston Chronicle

[A] glowing account. . . . Crile is . . . an exhuberant Tom Clancy-type enthusiast for the Afghan caper. . . . Criles account is important, if appalling, precisely because it details how a ruthless ignoramus congressman and a high-ranking CIA thug managed to hijack American foreign policy." Chalmers Johnson, The Los Angeles Times Book Review

Charlie Wilson's War reads like a best-selling novel. . . . Crile's globe-trotting research and adroit writing have produced a vastly entertaining book that outmuscles most spy novels in its quota of sheer thrills and chills." John Marshall, The Seattle Post-Intelligencer

Crile's real accomplishment is in telling the human story of Rep. Charlie Wilson of Texas and a now-retired covert CIA operative named Gust Avrakotos. . . . [Crile] has unearthed some startling details about this chapter of our covert history, found and written about two colorful if flawed characters, and lent a great deal to a better understanding of our recent past and our troubled present." Edward P. Smith, The Denver Post

A cross between Tom Clancy and Carl Hiassen, with the distinguishing feature that it's all apparently true. . . . Throw in a middle-aged Texan belly dancer, an assortment of Congressional looinies, a few beauty queens, some ruthless Afghan rebels, and a murderous Pakistani dictator who only wants to be understood." Gerard DeGroot, Christian Science Monitor

Charlie Wilson's War conveys the sense of victory CIA leaders felt over the success' in Afghanistan. . . . Wilson himself is a writer's dream of a main character. . . . A rollicking good tale." Karen Sandstrom, The Cleveland Plain Dealer

In the midst of Crile's important expose of U.S. covert policy in Afghanistan and it's ramifications, there's an engrossing character study as well." Clay Smith, The Austin Chronicle

A classic story of good intentions gone wrong, a comedy of can-do Americans loose in a world it really doesn't understand." Charles Taylor, Salon.com

His narrative is fast-moving, supercharged, and overheated, chock-full of high drama and sexual innuendo. In short, it is great fun." Raymond Puffer, KLIATT

The subtitle hereThe Extraordinary Story of How the Wildest Man in Congress and a Rogue CIA Agent Changed the History of Our Timessays it all. Almost. . . . Much of the tale of getting there is only now revealed by Crile, a veteran TV producer and hell of a story man." Celia McGee, New York Daily News

A helluva story. . . . [Crile] eschews highfalutin generalizations in favor of racy vignettes. This yields a riveting glimpse of the inner workings of a secret area of government." James Critchlow, The New Leader

A gripping read for students of the cold war, anyone who wants the lowdown on how their tax dollars really get spent, Central Asia junkies or those who delight in cloaks, daggers and plausible deniability." The Economist

[Crile] gives intriguing insight into the methods and mentality of the cloak-and-dagger business, as well as to the machinations of that handful of relatively unknown members of Congress who dominate Capitol Hill by controlling appropriations." Gerard A. Patterson, Pittsburg Post-Gazette

An engrossing story of this little known and often forgotten war." Sterlin Holmesly, The San Antonio Express

This I-can't-believe-it's-not-fiction tale has it all: a Marlboro Man handsome leading man, a parade of impossibly gorgeous women, sex, spies, copious quantities of booze and enough violence to take Arnold Schwarzenegger and his Terminator scriptwriters through several more sequels. The story, narrated with cinematic verve by George Crile . . . is both hilarious and harrowing." Kathy Kiely, Arkansas Democrat

Charlie Wilson's War is one of those rare, priceless books about politics and history. It has the uncanny ability to uplift even the most hardened of spirits while simultaneously confirming anyone's deepest fears about the way it all really works. . . . A masterful narrator, Crile manages to include the relevant technical data. . . .[He] offers a trenchant meditation on just how fleeting glory really is, and just how quickly the wheel of fortune can turn the other way. . . . It has more political intrigues, more suspense, more intense psychological analysis, and more technological know-how than anything Tom Clancy or Robert Ludlum could fantasize about. And it has something else besides: it's true." Michael Shannon Friedman, Charlotte Gazette

Fascinating [and] entertaining. . . . What a story!" Dennis Lythgoe, The Deseret News

If you like tell-all books about the unbelieveable things that our elected folks can do for you, you will love this book. Charlie Wilson's War has it all as well as an explanation about how our most feared enemy, Osama bin Laden, got his start with a little unintended help from his friends right here in the United States." Saralee Terry Woods, The Nashville City Paper

A bizarre chapter of contemporary history that could have been written by Ian Fleming (it is too improbable for Tom Clancy or John LeCarre), Charlie Wilson's War is a true tall tale of silver screen-sized characters that, for better or worse, changed the world." Mary Brown Malouf, The Salt Lake Tribune

Charlie Wilson's War shines the light on a gripping story of international intrigue, booze, drugs, sex, high society and arms deals. The last great battle of the Cold War was anything but a typical CIA program." Lucas Everidge, Politics Now

One thing I especially like about Crile's treatment of all this splendid material is his almost tender portrait of Wilson himself, warts and all. . . . It's a whale of a tale, and I recommend it highly. You'll never find another history that reads more like a cross between Flashman and a Tom Clancy novel." Molly Ivins, Working For Change

Fascinating." Larry D. Woods, The Nashville City Paper

Wilson and Avrakotos give life to an incredible story about U.S. involvement in Afghanistan. . . . If there is one book to read about U.S. involvement in Afghanistan and its relevance to the emergence of the Taliban, September 11th, and the war in Afghanistan, this is it." Craig A. Stoehr, The Northeast Book Reviews

Put the Tom Clancy clones back on the shelf; this covert-ops chronicle is practically impossible to put down. No thriller writer would dare invent Wilson. . . . Superb writing from Crile . . . will keep even the most vigorous critics of this Contra-like affair reading to the end." Publishers Weekly (starred review)

Crile offers an absorbing, thoroughly detailed look at the largest and most successful CIA operation in U.S. History. . . . [Charlie Wilson's War is an] engrossing account of the remarkable battle that ended the Soviet Union's hold on Afghanistan. Readers interested in the politics and cultures of Washington, D.C., and the Middle East will relish this book." Booklist (Starred Review)

An engaging, well-written, newsworthy study of practical politics and its sometimes unlikely players, and one with plenty of implications." Kirkus Reviews

Crucial and timely. . . . Criles book, with its investigative verve and gripping narrative, is a comprehensive political assessment and sobering account of the power structures that run parallel to, but apparently unknown by, official government authorities." PW Daily for Booksellers

Americans often ask: Where have all the heroes gone?' Well a lot of them come roaring through in this tour de force of reporting and writing. Tom Clancy's fiction pales in comparison with the amazing, mesmerizing story told by George Crile. By resurrecting a missing chapter out of our recent past, Charlie Wilson's War provides us with the key to understanding the present." Dan Rather

An amazing tale, made all the more amazing because it was missed by the press. George Crile has written a book revealing the extraordinary details and intrigue of a secret war, and that alone would be a monumental achievement. But he has also written a book about how power works in Washington, about how the C.I.A. succeeded in this war but failed because it armed an ally who became our enemy, about how we might better understand Islamic fundamentalism, about how a solitary Congressman guilefully moved the U.S. government, and all of this comes with a breathtaking cast of characters worthy of a LeCarre novel. Only it's all true. And just as vivid." Ken Auletta

[A] riveting, beautifully researched and profoundly disturbing book. . . . Crile's book is also an astonishing glimpse into the world of the CIA and the power of individual, cash-rich lobbies in American politics. More than anything, it is the parade of characters that is the real pleasure of the book." Jason Burke, Guardian (UK)
Grove Press, 9780802143419, 550pp.
Publication Date: November 1, 2007
Coverage from NPR