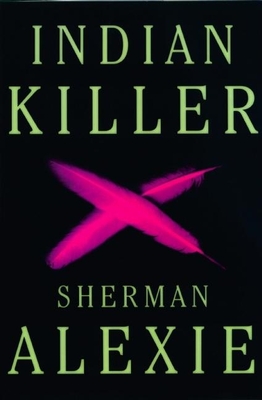 Indian Killer
Paperback

* Individual store prices may vary.
Other Editions of This Title:
Paperback (1/1/1998)
Paperback (1/1/1998)
Description
"Part thriller, part magical realism, and part social commentary, Indian Killer . . . lingers long past the final page."--Seattle Weekly A national best seller, Indian Killer is arguably Sherman Alexie's most controversial book to date--a gritty, racially charged literary thriller that, over a decade after its first publication, remains an electrifying tale of alienation and justice. A serial murderer called the Indian Killer is terrorizing Seattle, hunting, scalping, and slaughtering white men. Motivated by rage and seeking retribution for his people's violent history, his grizzly MO and skillful elusiveness both paralyze the city with fear and prompt an uprising of racial brutality. Out of the chaos emerges John Smith. Born to Indians but raised by white parents, Smith yearns for his lost heritage. As his embitterment with his dual life increases, Smith falls deeper into vengeful madness and quickly surfaces as the prime suspect. Tensions mount, and while Smith battles to allay the anger that engulfs him, the Indian Killer claims another life. With acerbic wit and chilling page-turning intensity, Alexie takes an unflinching look at what nurtures rage within a race both colonized and marginalized by a society that neither values nor understands it.
Praise For Indian Killer…
A terrific second novel by the talented Native American author whose highly praised fiction has already moved him onto the short list of the country's best young writers. It's a rich, panoramic portrayal of contemporary Seattle that uses the form of the mystery to tell some uncomfortable home truths about Indian-white relations, and indeed racism in all its forms . . . [an] exciting story with a host of keenly observed and rigorously analyzed characters. . . . Alexie succeeds brilliantly at suggesting the time-bomb-ticking character of John Smith's ravaged psyche, and the novel rips along at a breathless pace. . . . Both a splendidly constructed thrillerand a haunting, challenging articulation of the plight and the pride of contemporary Native Americans." Kirkus Reviews (starred review)

Vigorous prose . . . haunted, surprising characters . . . flashes of sardonic wit . . . [ Indian Killer is] a meditative exploration of the sources of human identity." Richard E. Nicholls, The New York Times Book Review

Hard-edged and urban, distinctly individual. . . . The characters in Mr. Alexie's work are not the usual kind of Indians. . . . They are not tragic victims or noble savages . . . they listen to Jimi Hendrix and Hank Williams; they dream of being basketball stars. . . . And unlike most Indians in fiction, they are sometimes funny." New York Times

A slyly subversive potboiler . . . a multilayered work . . . highlights the tenuous thread of civility that exists between white and American-Indian cultures." Los Angeles Times

Decries America's prejudices while telling a rip-roaring good tale." People

A brilliant job. . . . This book will leave your head whirling. . . . A reminder that racial tensions are alive and well." San Antonio Express-News

Not since Richard Wright's Native Son has a novel by a minority writer so devastatingly indicted an entire society and laid bare with merciless candor the racial hatred festering at the center of it." Kansas City Star

Part thriller, part magical realism, and part social commentary, Indian Killer . . . lingers long past the final page." Seattle Weekly

Stunningly well-written . . . riveting." Rocky Mountain News

Alexie has angry wit and offhand charm. . . . Best of all, the fireworks and authority are in the service of an ambitious and difficult theme: racial hatred." Boston Sunday Globe

Sherman Alexie has found his métier in writing novels that open the way for understanding history's destructive spells." Philadelphia Inquirer

A racially charged literary thriller." Publishers Weekly (starred review)

Scorching . . . brilliantly detailed." Boulder Planet

Alexie mesmerizes. . . . A haunting, painfully vivid portrait . . . frighteningly real." Hartford Courant

A passionate, beautifully constructed and compelling novel by an extremely gifted writer." Salon Previews, Border Books
Grove Press, 9780802143570, 432pp.
Publication Date: June 1, 2008