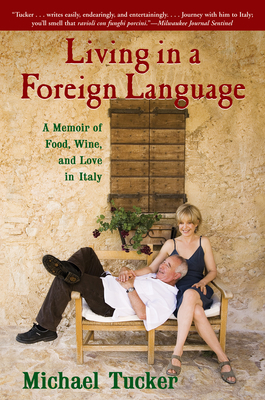 Living in a Foreign Language
A Memoir of Food, Wine, and Love in Italy
Paperback

* Individual store prices may vary.
Other Editions of This Title:
Hardcover (7/1/2007)
Description
The actor Michael Tucker and his wife, the actress Jill Eikenberry, having sent their last child off to college, were vacationing in Italy when they happened upon a small cottage nestled in the Umbrian countryside. The three-hundred-and-fifty-year-old Rustico sat perched on a hill in the verdant Spoleto valley amid an olive grove and fruit trees of every kind. For the Tuckers, it was literally love at first sight, and the couple purchased the house without testing the water pressure or checking for signs of termites. Shedding the vestiges of their American life, Michael and Jill endeavored to learn the language, understand the nuances of Italian culture, and build a home in this new chapter of their lives. Both a celebration of a good marriage and a careful study of the nature of home, Living in a Foreign Language is a gorgeous, organic travelogue written with an epicurean's delight in detail and a gourmand's appreciation for all things fine.
Praise For Living in a Foreign Language: A Memoir of Food, Wine, and Love in Italy…
A satisfying look into the good life." Publisher's Weekly

Foodies will slaver and bristle with envy at the surfeit of pungently fresh truffles that appear at seemingly every meal."­­ Mark Knoblauch, Boolist

Not at all the usual actor's memoir, but a simple toast to eating, drinking and innocent merriment in old Umbria." Kirkus Reviews

If you've ever dreamed of living in an ancient stone villa set high above the Italian countrysideand who hasn't?Living in a Foreign Language is a seduction, a warning, an encouragement, and a guide to making a dream come true." Mary Doria Russell, author of The Sparrow

Michael Tucker's Living in a Foreign Language is a rollicking, food and fun-filled chronicle of his and his wife Jill's international traveling circus. From New York to Los Angeles to Marin county to Italy and New York again, it's an odyssey of change and growth filled with good wine, fine food, and great friends. Infused with love, the Tuckers' saga of building a home (and a life) in Umbria, Italy, is as warm and irresistible as a freshly baked pizza." Steven Bocho, hollywood producer and creator of L.A. Law

[A] charming book. It literally grabbed me by the taste buds and took me for an epicurean excursion." Phil Doran, author of The Reluctant Tuscan: How I Discovered My Inner Italian

The ex-L.A. Law star details his and wife Jill Eikenberry's move to Italy. Viva la dolce vita!"People

Tucker writes easily, endearingly and entertainingly about finding a rustico in the Italian countryside and moving there with his wife Journey with him to Italy; you'll smell that ravioli con funghi porcini."Geeta Sharma Jensen, Milwaukee Journal Sentinel

Reading books on wine provides an invaluable, yet often insufficient, wine education. Without knowledge of the wines' accompanying food, you're nothing but a wine geek. Books like Living in a Foreign Language provide such an ideal context for how to truly enjoy wine with food that they should be required reading for all oenophiles." The Washington Post

One quarter of the way through I realized this wonderful experience of Italy was going to have a last page, which I couldn't and didn't want to happen. I devoured each moment!" Bernadette Peters

Michael Tucker's life is full of adventurous, lusty choices. He writes about them with just as much boldness. Whether it's an Italian lesson in Rome or the first pizza party in his four-hundredyear- old kitchen in Umbria, his descriptions make you feel as if you're guests in his home." John Lithgow

When actor/writer Tucker and his wife, actress Jill Eikenberry, bought a cottage in Umbria, they fell in love with the house, the place, the food, the wine, and each otherall over again. This charming memoir will make you want to hop on the next plane to Italy with the love of your life (or find the love of your life)."Elisabeth Grant-Gibson, Windows a bookshop, Monroe, LA, Book Sense quote
Grove Press, 9780802143624, 255pp.
Publication Date: June 1, 2008
or
Not Currently Available for Direct Purchase