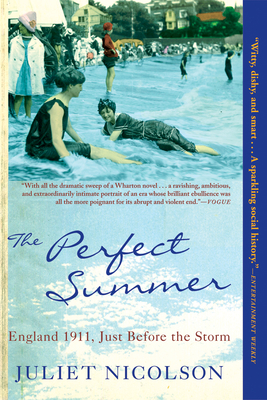 The Perfect Summer
England 1911, Just Before the Storm
Paperback

* Individual store prices may vary.
Other Editions of This Title:
Hardcover (5/1/2007)
Description
The Perfect Summer chronicles a glorious English summer a century ago, when the world was on the cusp of irrevocable change. Through the tight lens of four months, Juliet Nicolson's rich storytelling gifts rivet us with the sights, colors, and feelings of a bygone era. That summer of 1911 a new king was crowned and the aristocracy was at play, bounding from one house party to the next. But perfection was not for all. Cracks in the social fabric were showing. The country was brought to a standstill by industrial strikes. Temperatures rose steadily to more than 100 degrees; by August deaths from heatstroke were too many for newspapers to report. Drawing on material from intimate and rarely seen sources and narrated through the eyes of a series of exceptional individuals--among them a debutante, a choirboy, a politician, a trade unionist, a butler, and the queen--The Perfect Summer is a vividly rendered glimpse of the twilight of the Edwardian era.
Grove Press, 9780802143679, 304pp.
Publication Date: May 13, 2008
What is the paradox in the title of Nicolson's book? "It was a summer when, as the Countess of Fingall put it, 'We danced on the edge of an abyss.' There was a sense of urgency about the summer. Socialites crammed in their gaiety as intensively as the poor made their grievances apparent. It was as if time was running out" (p. 2). Talk about examples of the sense of urgency…and the lack of it. This life on the edge had one expression in Vita Sackville-West: "Why worry? Why not enjoy the present?…We may all be dead tomorrow, or there be a war or an earthquake…I think one never enjoys life so much as when it becomes dangerous" (p. 88). Is this attitude usually or always associated with those of privilege? Can you think of exceptions?
In a country with a reputation for being straight-laced, this book pulls the curtains apart for some delightful aberrant behavior. Talk about some of the high jinks, discovered and undiscovered. (Remember those gapping curtains and the ignored 6:00 a.m. warning bell.)
How does Juliet Nicolson's voice affect our understanding of this post-Edwardian summer? Does her living at Sissinghurst lend undeniable authority to stories of her ancestors' world? Do you detect a sympathetic delight in her tales of Diana Manners and the Corrupt Coterie? (see pp. 88-89).
Do you sense any nostalgia for those days of 1911, even with all the class rigidity and vast gap between rich and poor? What is it the writer—and reader—might miss in latter-day England? At the same time, do the "rumblings" reflect a democratic trend for the better? After the coronation of George V, "Lady Ottoline returned home to Bedford Square, 'utterly exhausted by that puppet show,' declaring further that 'It was hateful and I am more Republican than ever'" (p. 117). Do you feel ambivalence about the past as opposed to the present? What are sticking points for you?
"Cornflakes and teabags had arrived on breakfast tables" (p. 15). Are you surprised the United States plays such a minimal role in Nicolson's England of 1911? Can you recall any Americans who appear in these stories?
Does The Perfect Summer give you the idea that events of years following might have gone another direction? What might have made a difference?
Tina Brown says that Juliet Nicolson has invented a new kind of social history. What is it that feels fresh? Can you think of other books, even historical novels, that use research and detail in ways Nicolson does?
Do you feel Nicolson provides enough information about the coming cataclysm in Europe? Or is it more effective to leave the reader with the unsuspecting majority in the summer of 1911? Does her understated foreshadowing create a balance of suspense and momentum?
How does the weather become a central character? What begins as a blithe, even perfect summer, becomes catastrophic for crops and perhaps tempers. Do you think the strikes were provoked by the miseries of people that summer? "To the young novelist D. H. Lawrence, from the Midlands, London seemed like 'some hoary massive underworld, a hoary ponderous inferno. The traffic flows through the rigid grey streets like the rivers of hell through the banks of rocky ash'" (p. 127). What other responses do you recall to this record-breaking heat of 1911? In contrast, the Royals seem to have found ways of coping. According to the Mistress of the Robes, as she accompanied the King and Queen to Ireland: "The yacht was too delicious after the heat in the train, though even that was quite bearable with fans and lumps of ice" (p. 127). What helps you to understand this oppressive heat? Widespread summer blackouts? Other experiences?
One aspect of this perfect summer is Siegfried Sassoon's memory: "Sitting under the Irish yew, we seemed to have forgotten that there was such a thing as the future" (p. 135). Sassoon could play cricket, write poems, and walk among the tea roses, tree peonies, and lavender, and drink iced coffee and claret cup between tennis games. His biggest problem was beginning to sort out his sexual proclivity. But his coachman's son, John, saw the drudgery, poor sanitation, and disease behind the romanticized view of life in the country. (see p. 138). Are these discrepancies exacerbated by industrialization and the flight of the young from the land? Rider Haggard said, "Nature, in my opinion, only appeals to the truly educated" (p. 139). Do you agree?
Do you emerge from this book with a clear idea of what it is to be English…at least in 1911? Is there still a coherent norm at the time of the book? Are there vestiges of this world today among the English you know or read about?
What do we learn about the royal family, especially in the transition from Edward VII to George V? Does Queen Mary come alive for you? What are we told about the Prince of Wales (later Edward VIII)? Are there intimations of 1936?
What do we learn about the royal family, especially in the transition from Edward VII to George V? Does Queen Mary come alive for you? What are we told about the Prince of Wales (later Edward VIII)? Are there intimations of 1936?
As a public person, Winston was invited by the Kaiser (first cousin of George V) to visit Germany. Sir Edward Grey, foreign minister and lodger with the Churchills in Eccleston Square, realized that Winston was "exhilarated by the air of crisis and high events" in these days (p. 57). How did the establishment of The Other Club reflect his character? Churchill and F. E. Smith could go hammer and tong in the House of Commons and then repair to The Other Club for serious drinking, dining, repartee, and friendship. What did each give the other that was irreplaceable?
Is the Rudyard Kipling of the book the one you recognize from his writings? What is his reputation at the time?
When Eric Horne, the butler, takes the stage (pp. 148-154), do you find it a tonic after the hothouse aristocrats? What are the talents that both appeal to his employers and sustain him personally? What are some astonishing examples of the upper class use and abuse of servants? Are your Masterpiece Theater ideas of upstairs-downstairs lives confirmed?
Change was both inevitable and necessary in this world, as some saw it. Virginia Stephens (later Woolf) wrote about the ripples among domestic servants: "The Victorian cook lived like a leviathan in the lower depths, formidable, silent, obscure, inscrutable; the Georgian cook is a creature of sunshine and fresh air; in and out of the drawing room, now to borrow The Daily Herald, now to ask advice about a hat. All human relations have shifted—those between masters and servants, husbands and wives, parents and children. And when human relations change there is at the same time a change in religion, conduct, politics, and literature" (p. 156). Do you think Virginia Stephens was being optimistic or at least observing through the prism of her liberal Bloomsbury set? Is she at least prescient?
How is it that new members of the House of Lords included the writers J. M.Barrie, Bernard Shaw, and Thomas Hardy?
What are the reforms of the National Insurance Act proposed by Lloyd George? Why is it so controversial? (see pp. 173-174).
What kind of person is Ben Tillett? How would you explain his influence? (see pp. 180 ff.) Do you find him a compelling figure?
Talk about the power of women in 1911. For the high-born, what are the privileges and where are the closed doors? What are the conditions for poor women in the work place and at home? (see pp. 198 ff.). Who was Mary Macarthur?
In late July in England, drought scorched the earth and no birds sang. Rumblings on the docks and threats of German aggression added to England's woes. What provokes Lloyd George to thunder, "I say emphatically that peace at that price would be a humiliation intolerable for a great country like ours to endure" (p. 171). What are the ensuing consequences for the military and the infrastructure?
What is the impact of Diaghilev's bringing les Ballets Russes to London? Rupert Brooke made fifteen trips to see it, and actress Ellen Terry thought the Russian Ballet had elevated dance to its "primal nobility" (p. 121). What qualities in the dance, particularly in the sublime Nijinsky, appealed to restless intellectuals? Do you find it ironic that the same society that had condemned Oscar Wilde very few years ago now wined and dined Diaghilev and his dancers?
What kinds of technology were making inroads? Automobiles? Airplanes? Wouldn't you have liked to see a test run for aerial mail delivery with "a postman in full Royal Mail uniform and cap clinging on precariously behind the pilot as they wobbled through the sky"? (p. 223). Motion pictures? What else? How was the arrival of electricity, for instance, a mixed blessing for the working class?