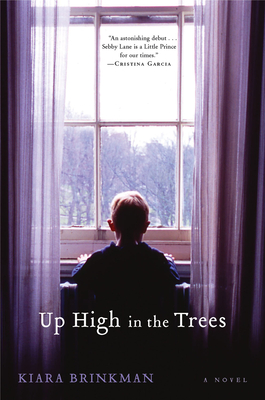 Up High in the Trees
Paperback

* Individual store prices may vary.
Other Editions of This Title:
MP3 CD (8/16/2016)
Description
This is an exquisite debut novel about a family in turmoil, told in the startling, deeply affecting voice of a nine-year-old, autistic boy. Following the sudden death of Sebby's mother, his father takes Sebby to live in the family's summerhouse, hoping it will give them both time and space to recover. But Sebby's father deteriorates in this new isolation, leaving Sebby struggling to understand his mother's death alone, dreaming and even reliving moments of her life. He ultimately reaches out to a favorite teacher back home and to two nearby children who force him out of the void of the past and help him to exist in the present. In spare and gorgeous prose buoyed by the life force of its small, fearless narrator, Up High in the Trees introduces an astonishingly fresh and powerful literary voice.
Grove Press, 9780802143709, 328pp.
Publication Date: June 1, 2008
How would you describe the voice of Sebby, the narrator? Does he seem troubled, perhaps as a result of the early loss of his mother, or something else? Does his voice sound erratic and unstable to you, or is he particularly alert and sensitive? As you get to know him, is he so different from other bright, strong-minded, lonely eight-year-olds? Would you agree it is a powerful and always honest voice we hear?
When does Sebby take responsibility for others' welfare? Think of his caring for his father's feet, his aiding Shelly, and nurturing the cat. Other times? On the other hand, Cass, in frustration, accuses him of not thinking of others, when he wanders off or demands a painful artifact from the past. Is he perhaps a mix, like most of us, of the two aspects?
Why do you suppose the setting is left vague? We do have clues to the era, from current events discussed. And the settings of home, summer place, school, and playground are described in detail. But where we are is ambiguous. Is it perhaps to leave the story as a kind of fable, with truths for all times? Might the compression of the action in one year, with flashbacks, add to this mythic quality?
What do we know about the interior lives of characters other than Sebby? We can deduce attitudes and feelings, but it is all through what filter? Do the family members seem unusually bound to home? Why might that be?
What do you recall about food in the book? How is it important for sustaining family life or marking occasions? Often Sebby is plain not hungry. Is this a sign of his sadness? Need for control? When is a time he gobbles joyously? Is it telling that the story ends with a feast?
Does Sebby seem to have special dispensation just to be himself? Is he perhaps more privileged, sometimes to his peril, than other eight-year-olds who need to learn protective coloration?
Sebby is special, no question. What is it he provides in his near-mythic role, to other people? Challenge? Clarity? If so, what kind?
How does Sebby show his willingness to risk as he reaches out to others? Ms. Lambert? Jackson and Shelly? Others?
How does Jackson's mother provide a life line to Sebby? Are you surprised she is as non-judgmental (of both Sebby and his father) as she is?
How are we to understand Sebby's plunge into the water? Is it all impelled by his memory of his mother and her soap owl? Can his need to reconnect with his mother go this far?
We know that multicultural writing explores what it feels like to be on the edge or outside. How does this story open out into other kinds of marginality? Are we moved to remember times we have felt "other"? How do stories help us find out who we are?
What is the function of Sebby's letter writing to his teacher? How did you respond to those letters? What do you think they meant to Ms. Lambert? How had Sebby earlier expressed himself in heartfelt notes? Do the letters offer an important counterpoint to the rest of the narration?
At one point Dad says, "We still have to be a family" (p. 317). Even though the mother is said to have "left," how does she provide an enduring legacy?
Are you struck that Cass and Leo are truly competent, both at school and at home? Is it their necessity to function without a mother that matures them? Is it their relationship to Sebby? How do they relate to their father?
What is the role of world news in the novel? How does Cass particularly try to engage her family in a world beyond their own? Talk about her father's response at the end when Cass asks, "You know about Somalia?" (p. 293).
What are some of the precarious mental states in the book? What are the manifestations? Is there a symbolic connection between hiding under tables and beds and wandering out into the night?
Pictures are a central image throughout the book. Cite examples. The grandfather? The mother? Ms. Lambert? The Polaroid camera? How do pictures provide both a solace and a hope for the future for Sebby?
How is music important to this family? Are you familiar with the songs that provide a framework of memory for the father—and by extension for his children? Is music actually one of the ways they become a family?
How are books central to the lives of these children? The town library is a refuge at times. When? Do you think that Sebby's love of reading reassures the social worker? What is the father's connection with books? (see p. 66)
When do serious health threats afflict the family? Recall the events imperiling Sebby. And what do Dad's numb, bloody feet indicate about him? And Sebby's near frostbite?
What does the title mean? (see p. 25). How has Sebby held onto the concept of "up high in the trees"? Could it imply something about Sebby's special vantage point in the story?
Talk about Sebby's view of time in the tale. When does he want to accelerate it? Slow it down? Retrieve lost time? How does the dark hiding place at the end change from earlier hiding places? How has Sebby's idea of time evolved?
Even though the book often focuses on loss, specific as well as elemental, how is it also about restoration and redemption? How do love and patience, loyalty and courage work their magic?
What do you predict for the family in the future?
or
Not Currently Available for Direct Purchase