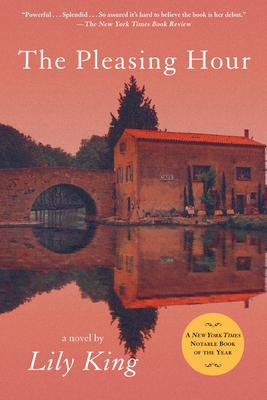 The Pleasing Hour (Paperback)
Grove Press, 9780802143747, 237pp.
Publication Date: March 1, 2010
Other Editions of This Title:
Paperback (10/3/2000)
* Individual store prices may vary.
Description
Lily King's highly acclaimed, award-winning debut novel is the story of Rosie, an American au pair in Paris whose coming of age defies all our usual conceptions of na vet and experience. Rosie is fleeing an unspeakable loss that has left her homesick for her family. As she awkwardly grasps for the words to communicate with and connect to Nicole, the cool, distant, and beautifully polished mother of the three children she cares for, Rosie's bond with the patriarch of the household develops almost too naturally. When Lola, the middle child, begins to suspect an indecent intimacy between Rosie and her father, Rosie moves to the south of France to care for Nicole's elderly guardian, the storyteller of the family's secrets. There, she discovers a past darkened by war and duplicity, and finally comes to understand the tragedy behind Nicole's elusive demeanor.
About the Author
Lily King studied at the University of North Carolina at Chapel Hill and Syracuse University, where she won the Raymond Carver Prize for fiction. A MacDowell Colony fellow, her stories have appeared in Ploughshares and Glimmer Train. King is also the recipient of a 2000 Whiting Writers' Award.
Praise For The Pleasing Hour…
Lily King's splendid new novel consists of one beginning after another, all so assured that it's hard to believe the book itself is her debut" The New York Times Book Review

Delightful . . . [This] remarkably well-written book . . . introduces a very talented writer of great promise." The Washington Post Book World

Written with quiet, lyric forcefulness . . . An impressive debut from a writer who knows how to uncover the saving impulses of the heart." Elle

A rich first novel about families lost and found from a promising writer with an ear for language from the heart, that touches deeply." The Christian Science Monitor

King can brushes lush descriptions, with majestic colors and vivid, fleeting pleasures." The Seattle Times

Beautifully wrought . . . What people do to each other and the legacies they leave are King's central subjects, and in her deft hands they're explored in complicated, ambitious ways that leave us feeling as if we've become fluent in a foreign language." USA Today

Brace yourselfThe Pleasing Hour is an intense novel, full of secrets and complicated situations." Seventeen

Here, as with a palimpsest, each new form of pleasing delineated by the author is made more complex by the imprint of the last." The New Yorker

King brings alive a palette of colorful and robust characters that might have been collected from an afternoon sidewalk café in Provence. . . . This is a rich first novel about families lost and found from a promising writer with an ear for the kind of languagelanguage from the heart, that touches deeply." The Christian Science Monitor

King's economy with detail is perfectly calibrated to the tension created by Rosie's language deficit, cultural discomfort, and emotional isolation. . . . Though she tells lean stories, King can brush lush descriptions, with majestic colors and vivid, fleeting pleasures." The Seattle Times

Well written, absorbing . . . [King] is an accomplished stylist, repeatedly demonstrating a fine control of her complicated structure. . . . An altogether pleasing debut." Newsday

The Pleasing Hour is a beautiful, sad novel that leaves a lasting impression." New Woman

King delivers an emotionally suspenseful story in language nearly as exquisite as the setting itself . . . The Pleasing Hour , like all intersections at which lives converge, belongs to more than one personbut ultimately it is Rosie whose emotional evolution we celebrate, and with it the arrival of Lily King to the world of bright new literary voices." Ploughshares

In gentle, elegant prose, first novelist King . . . has taken some unusual elements and worked them into a believable, beautifully etched tale of people who, scarred by their past, are now trying to get it right." Library Journal

Expertly constructed, full of surprises, superbly paced, and sweetly sad, King's book hardly reads like a first novel . . . the seamless integration of theme, plot and voice produces a rare sense of intimacy." Publishers Weekly

With longing and sweetness, this subtle and gorgeously crafted novel takes us into a tangle of family affections . . . The play of French against American, of fresh hurts against old but still aching ones, of lovers and mothers, is gently woven in language of great purity." Booklist

Intriguingthe central character's complexity and many of the descriptive details are pleasing." Kirkus Reviews

This is a deft and moving novel, with grace notes and shocks of recognition on every page. Elegant, sensual and, above all, aware, it offers a stunningly dramatic presentation of ambivalences and reconciliations. You feel wisdom in these sentences, and care for the truth." Phillip Lopate, author of Portrait of My Body

This is a lovely book, elegant and wise, full of illuminations about France, and families, and love." Roxana Robinson, author of This Is My Daughter and Summer Light

Lily King has written a luminous first novel. Her psychology is original and subtle, her mise en scene perfect, her deft and lovely language and gentle humor irresistible. The Pleasing Hour is a find, and a joy." Beth Gutcheon, author of Saying Grace and Five Fortunes

In this lovely, subtle debut novel, Lily King writes with delicacy and wisdom of inner and outer lives, of exclusion, loneliness, and survival. The music of her writing is a deliciousness in itself. She sees with a rare discernment, an insight as profound and surprising as it is graceful and forgiving, and understands the complex structures invented by the will to love. In The Pleasing Hour , she imbues love's insistent formsits misbegotten, maternal, and romantic powerswith a poignancy that enchants." Alice Fulton, author of Sensual Math