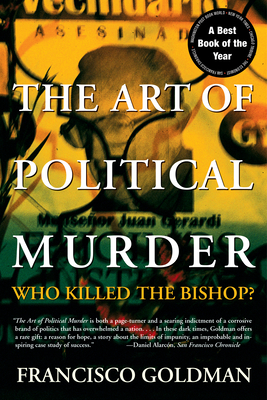 The Art of Political Murder
Who Killed the Bishop?
Paperback

* Individual store prices may vary.
Other Editions of This Title:
Paperback (4/21/2020)
MP3 CD (5/31/2016)
Hardcover (9/1/2007)
Description
Bishop Juan Gerardi, Guatemala's leading human rights activist, was bludgeoned to death in his garage on a Sunday night in 1998, two days after the presentation of a groundbreaking church-sponsored report implicating the military in the murders and disappearances of some two hundred thousand civilians. Realizing that it could not rely on police investigators or the legal system to solve the murder, the church formed its own investigative team, a group of secular young men in their twenties who called themselves Los Intocables (the Untouchables). Known in Guatemala as "The Crime of the Century," the Bishop Gerardi murder case, with its unexpectedly outlandish scenarios and sensational developments, confounded observers and generated extraordinary controversy. In his first nonfiction book, acclaimed novelist Francisco Goldman has spoken to witnesses no other reporter has reached, and observed firsthand some of the most crucial developments in the case. Now he has produced The Art of Political Murder, a tense and astonishing true detective story that opens a window on the new Latin American reality of mara youth gangs and organized crime, and tells the story of a remarkable group of engaging, courageous young people, and of their remarkable fight for justice.
Praise For The Art of Political Murder: Who Killed the Bishop?…
Passionate and stunningly researched . . . [Goldman] is after more than a crime. His book portrays the hysterical confusion, the dark fog that powercorrupt, ruthless and enduringcan impose on a society, choking its instincts, blinding its sight and rendering truth not only hard to find but hard to distinguish even if it is found."Richard Eder, New York Times

One of our hemisphere's finest writers has done it again. This magisterial book . . . is a marvelous chimera of reportage, history, autobiography but also a riveting whodunit, all rendered with Goldman's trademark intelligence, compassion and verve. Goldman details howthrough war, corruption, impunity, blackmail, silence and murdera country's soul can be brought to the brink of extinction. And howthrough faith, perseverance, sacrifice, courage, always courageit can be brought back to the light. Devastating, gripping, irresistible." Junot Diaz, author of The Brief, Wondrous Life of Oscar Wao

Francisco Goldman is a wonderful writer and this is an extremely important book."Salman Rushdie

This is an impressive book. Goldman has focused his superb novelist's talentscompassion, precision, muscularity, great thoroughness and an instinct for the exotiqueon modern-day Guatemala's ineradicable crime against itself. This remarkable book would seem not to remind us of ourselves, yet somehow it does." Richard Ford, author of The Lay of the Land and Independence Day

With his novels, Francisco Goldman has already made extraordinary contributions to modern literature. Now, he has written a compelling and important piece of investigative journalism. Like of all Goldman's writings, The Art of Political Murder is a work of unique moral acuity and masterful storytelling; but he has done much more than weave us a fine tale. This is a real-life whodunit, a murder conspiracy which lays bare the poisonous heart of politics and power in contemporary Guatemala. In the story of the murder of Bishop Gerardi, Goldman is not only our writer, but our trustworthy detective."Jon Lee Anderson, author of Che Guevara: A Revolutionary Life

A powerful detective story with a labyrinthine plot . . . Goldman brilliantly reconstructs both the story of how the bishop was killed and the murderous history of military violence that he courageously opposed ."Aryeh Neier, New York Review of Books

Bishop Juan Gerardi directed the investigation into the Guatemalan terror. Prohibited history: military power gave the order for silence and forgetting. One night in the spring of 1998, the bishop published the results of the investigation. Two nights later, he was found lying in his blood, his skull shattered by blows from a brick. A gigantic international operation was launched to disguise the crime and safeguard the Untouchable impunity of the authors of the murder and two hundred thousand murders more. This book by Francisco Goldman is the irrefutable response to the dirty work of the specialists in misleading public opinion."Eduardo Galeano, author of Voices in Time

Some stories are inscribed deep in the pith of the world, awaiting only the coming of their chosen teller to set them forth. Such is the tale of Bishop Juan Gerardi, the beloved chistosoor jokerwho plumbed the depths of Guatemala's genocidal darkness and found himself finally engulfed by it. Gerardi's fate was to serve as the bringer of terrible truths and now he has been succeeded in that sacred role by novelist Francisco Goldman, who offers an unforgettable portraitnot only of one society corrupted to its heart by fear, lies and terror but of the insinuating, terrifying ways of power itself. In The Art of Political Murder, Goldman has written his greatest novelexcept that every word on these pages happens to be true. This is an essential book." Mark Danner, author of The Massacre at El Mozote: A Parable of the Cold War

The Art of Political Murder exemplifies flawless investigative journalism. A fantastic detective, .Goldman effortlessly merges background information with character, gets the real scoop, and somehow never loses the readerAlong the lines of Honor Thy Father and In Cold Blood, this is a work of nonfiction that can be read as a novel, even a mystery novelHowever, it does something I don't think a novel could have done in its stead: instigate immediate political change." Jesse Tangen-Mills, Bookslut.com

In this painstakingly reported and passionately-told story of a notorious murder conspiracy and the ruthless forces behind it, novelist Francisco Goldman offers us far more than a classic portrait of political corruption in a small central American country. This is human depravity and heroism on a mythic scale, ever more terrifying and timeless for being true." Charles Siebert, author of A Man After His Own Heart

In today's world of media cover-ups and government irresponsibility, Francisco Goldman's incredible investigation into the murder of Bishop Gerardi in Guatemala strikes a powerful chord with the reader. The terror and inhumanity present in this book is both eye-opening and shocking. Goldman's strengths as a journalist and a novelist combine to pack a powerful punch that is incredibly appealing and poignant." John M. Hugo, Andover Bookstore, Andover, MA

In The Art of Political Murder Francisco Goldman has crafted a compelling page turner as well as a deeply moving portrait of Guatemalan activists in the aftermath of a tragic civil war. Goldman's account of the the1998 murder of the Guatemalan Bishop Juan Gerardi Condera is a tensely wrought detective story and a political history. The Art of Political Murder is one of the finest pieces of personal investigative journalism I have read since Truman Capote's In Cold Blood." Paul Yamazaki, City Lights Booksellers, San Francisco, CA

Both a horrifying exposé and a triumphant tale of justice . . . [Goldman] employs a blend of literary prose and factual reportage to keep readers engrossed in a complex tale involving dozens of characters, a thicket of deception and constantly shifting versions of events. He zooms in like a detective on tiny forensic details, scrutinizing casual comments and wisps of evidence until they begin to make sense . . . The Art of Political Murder is a passionate cry of outrage that should be read and passed on by anyone who believes, as Goldman proves here, that truth is always more improbable than fiction."--Pamela Constable, Washington Post

Becoming by turns a little bit Columbo, Jason Bourne and Seymour Hersh, Goldman gives us the anatomy of a crime while opening a window to a misunderstood neighboring country that is flirting with anarchy. More, he offers an overdue indictment of brutal war criminals who were not just behind the killing, but also contributed to a generation of atrocities . . . Goldman's intricate and insightful reporting of the crime and the trial recalls that of Gabriel Garcia Márquez in News of a Kidnapping."Carolyn Curiel, New York Times

The Art of Political Murder is both a page-turner and a searing indictment of a corrosive brand of politics that has overwhelmed a nation . . . In these dark times, Goldman offers a rare gift: a reason for hope, a story about the limits of impunity, an improbable and inspiring case study of success." Daniel Alarcón, San Francisco Chronicle

A grimly satisfying, finely honed detective story . . . Goldman takes us deeper than any book has ever gone into the criminal pathologies of contemporary Latin America, with its mara gangs, prison riots, drug networks, and political putrefaction . . . [recounting] the murder as coolly as a coroner." Roger Atwood, Boston Globe

Gripping . . . A tour de force, not just for [Goldman's] reportorial tenacity . . . but because his novelist's eye and his deep understanding of Guatemalan society take you places no other reporter could: inside the death squads; inside the world of political assassination; inside the gangs and prisons; and out among the legions of psychotic, traumatized, unbalanced, underemployed veterans who are the perpetrators of so much of Guatemala's crime." Peter Canby, The Nation

The Art of Political Murder is journalism by genre; a searing, gripping account of the 1998 murder of Catholic Bishop Juan Gerardi Conedera and the winding, perilous investigation that followed it. Yet like Goldman's earlier novels, this book engraves itself in a reader's memory not only for the story it tellsriveting, horrific and oddly inspiringbut also for its nuanced portrayal of a society where violence, fear and moral corrosion have long outlived the conflict that once sustained them . . . an extraordinarily compelling read. Painstakingly, and at no small personal risk, Goldman spent nearly eight years tracking down nearly all of the crime's key players and untangling thousands of strands of contradictory evidence. Yet he has distilled this tangled mass of information to its dramatic essence, sustaining the suspense of a crime novel in order to compel his readers to understand the complexities of Guatemala's violent peace."Brodwyn Fischer, Chicago Tribune

First-rate research and reporting on the darkness of hearts."Kirkus (starred review)Drawing on a wealth of sources, including interviews, declassified documents and court records, his meticulously researched book is an impressive organizational achievement, as well as a vital moral accounting. Goldman invests this eye-opening account with a layer of personal reflection." Publishers Weekly

The Art of Political Murder compels us partly because it swings a door open onto the working guts of state-sanctioned violence . . . Here is a real tale of church machinations and government corruption. If, like me, you have not given the Tennessee-size nation an hour of your attention, The Art of Political Murder is reason to start." Karen Long, Cleveland Plain Dealer

An impeccably researched account of the Gerardi case that reads like a thriller . . . as enthralling as it is filled with terror." Carlos Rodríquez Martorell, NY Daily News

"A thriller that crashes through barriers of genre . . . Reading the book is to enter a surreal, and very dark labyrinth, a 300-page ride of relentless fear . . . [Goldman's] book is at once awe-inspiring and disheartening: He has perfected the art of nonfiction by explaining how Guatemala has perfected the art of political murder."Silvana Paternostro, BOMB

"An impressive achievement in investigative reporting . . . The Art of Political Murder is witness to the struggle of a small, courageous group of activists to bring the processes of a democratic judicial system to bear on one of the most corrupt and violent modern cultures in the Western hemisphere . . . Goldman's book is, in large part, [the Untouchables'] story. The tension and suspense are brutally real and the resolution far from certain. The Art of Political Murder is history with a fast pulse and a wary eye."Katherine Dunn, The Oregonian

Goldman spools out clues to the murder like a crime writer, uncovering a terrifying conspiracy that implicates powerful figures in the military, the government, and the media."The New Yorker

Goldman is a journalist's journalist, and the amount of investigative legwork involved in producing this book, and the risks thereof, is staggering. This is an impressive book in its breadth."Rocky Mountain News

Goldman has a storyteller's instinct . . . the work . . . provides a detailed and disturbing insight into a lingering national psyche in which the limits of power, corruption and violence remain difficult to measure."Jack Broom, Seattle Times

Francisco Goldman's carefully documented book is more than just an absorbing whodunit about the shocking assassination of a charismatic cleric . . . It also provides
Grove Press, 9780802143853, 416pp.
Publication Date: September 1, 2008