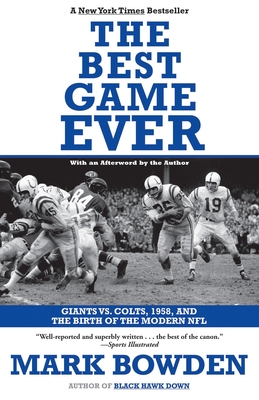 The Best Game Ever (Paperback)
Giants vs. Colts, 1958, and the Birth of the Modern NFL
Grove Press, 9780802144126, 303pp.
Publication Date: April 14, 2009
Other Editions of This Title:
MP3 CD (10/4/2016)
Compact Disc (11/25/2015)
Compact Disc (5/1/2008)
MP3 CD (5/1/2008)
Compact Disc (5/1/2008)
Pre-Recorded Audio Player (8/1/2008)
MP3 CD (2/1/2011)
Compact Disc (2/1/2011)
* Individual store prices may vary.
Description
On December 28, 1958, the New York Giants and Baltimore Colts met under the lights of Yankee Stadium for the NFL Championship game. Played in front of sixty-four thousand fans and millions of television viewers around the country, the game would be remembered as the greatest in football history. On the field and roaming the sidelines were seventeen future Hall of Famers, including Colts stars Johnny Unitas, Raymond Berry, and Gino Marchetti, and Giants greats Frank Gifford, Sam Huff, and assistant coaches Vince Lombardi and Tom Landry. An estimated forty-five million viewers—at that time the largest crowd to have ever watched a football game—tuned in to see what would become the first sudden-death contest in NFL history. It was a battle of the league's best offense—the Colts—versus its best defense—the Giants. And it was a contest between the blue-collar Baltimore team versus the glamour boys of the Giants squad. The Best Game Ever is a brilliant portrait of how a single game changed the history of American sport. Published to coincide with the fiftieth anniversary of the championship, it is destined to be a sports classic.
Praise For The Best Game Ever: Giants vs. Colts, 1958, and the Birth of the Modern NFL…
Entertaining and informative narration . . . [Bowden] frames the picture with a wide lens, but then focuses on the roles and lives of a few key players." Publishers Weekly

A sharp look at the 1958 National Football League championship game . . . [Bowden] wisely focuses on a few individualsJohnny Unitas, Raymond Berry, Weeb Ewbank, Art Donovan of the Colts; Frank Gifford, Sam Huff, Vince Lombardi, and Tom Landry of the Giantsto explain the game's singular link to the NFL's past and future. The author deftly examines the larger historical context shaping this coming-of-age moment, which propelled professional football to its current position as America's favorite sport. . . . A delight for anyone interested in the history of the NFL." Kirkus Reviews

Bowden, a skilled journalist . . . has written The Best Game Ever as a labor of love . . . His explanations of shifts in the teams' offensive and defensive strategies are lucid, and he knows enough about the extreme physical and mental demands the game exacts to convey a strong sense of the players' exhaustion and determination as the contest ground toward its conclusion . . . The Best Game Ever is sure to become an instant Sacred Text."
Jonathan Yardley, Washington Post

In his scrupulously researched account of the 1958 NFL championship game between the Baltimore Colts and the New York Giants, Mark Bowden makes a compelling case for both his title, 'The Best Game Ever,' and subtitle: 'The Birth of the Modern NFL.' . . . Mr. Bowden succeeds in making a contest from a half-century ago seem fresh, in part because he has a keen sense for the anecdotal . . . [his] best trick, though, is that he gets out of the way of a great story and a great game." Steve Wulf, Wall Street Journal

Tight and tidy . . . As we become more familiar with the participants in this drama, there is a shock of recognition on seemingly every page. It is remarkable learning what these men who all played in one game went on to do with their lives, both on and off the football field . . . Reading through Mr. Bowden's reconstruction of the game, one does get the sense that this game was, if not the best ever, at least one of the most intriguing."
Peter Hausler, Wall Street Journal

With the same precision he used to dissect a firefight in Mogadishu, Bowden anatomizes the 1958 NFL Championship between the Baltimore Colts and the New York Giants, which featured a death-defying comeback by the Colts and was also one of America's first truly communal live national events.'" Time

Bowden dives into the trenches of the 1958 NFL Championship game, where New York and Baltimore waged an overtime battle that wowed TV audiences and ensured the future of pro football . . . He astutely contrasts Frank Gifford's glamorous Giants with the blue-collar Colts of Johnny Unitas." Entertainment Weekly

Befitting a skilled reporter, Bowden uncovers new material to enliven his retelling. His interviews with several of the Colts and Giants players, as well as with Colts' then-assistant coach Charley Winner, yield new insights. In particular, receive Raymond Berry's detailed game notes from the day itself are invaluable, as are excerpts from the transcript of the NBC radio broadcast by Joe Boland . . . this book is a fine account of one of the most significant games in sports history." Library Journal

Bowden handles [the story] deftly, using a spare writing style to illuminate the historic tussle." Newsday
or
Not Currently Available for Direct Purchase