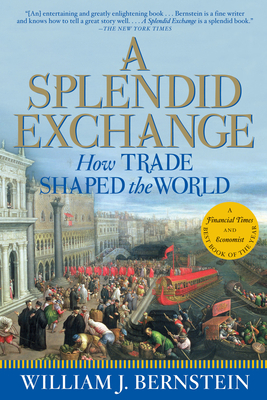 A Splendid Exchange
How Trade Shaped the World
Paperback

* Individual store prices may vary.
Other Editions of This Title:
Digital Audiobook (4/24/2008)
MP3 CD (4/25/2008)
Compact Disc (4/25/2008)
Hardcover (4/1/2008)
MP3 CD (4/25/2008)
Compact Disc (4/25/2008)
Compact Disc (4/25/2008)
Description
A sweeping narrative history of world trade--from Sumer in 3000 BC to the firestorm over globalization today--that brilliantly explores trade's colorful and contentious past and provides fresh insights into social, political, cultural, and economic history, as well as a timely assessment of trade's future.
Adam Smith wrote that man has an intrinsic "propensity to truck, barter, and exchange one thing for another." But how did trade evolve to the point where we don't think twice about biting into an apple from the other side of the world?
In A Splendid Exchange, William J. Bernstein tells the extraordinary story of global commerce from its prehistoric origins to the myriad controversies surrounding it today. He transports readers from ancient sailing ships that brought the silk trade from China to Rome in the second century to the rise and fall of the Portuguese monopoly in spices in the sixteenth; from the rush for sugar that brought the British to Jamaica in 1655 to the American trade battles of the early twentieth century; from key innovations such as steam, steel, and refrigeration to the modern era of televisions from Taiwan, lettuce from Mexico, and T-shirts from China.
Along the way, Bernstein examines how our age-old dependency on trade has contributed to our planet's agricultural bounty, stimulated intellectual progress, and made us both prosperous and vulnerable. Although the impulse to trade often takes a backseat to xenophobia and war, Bernstein concludes that trade is ultimately a force for good among nations, and he argues that societies are far more successful and stable when they are involved in vigorous trade with their neighbors.
Lively, authoritative, and astonishing in scope, A Splendid Exchange is a riveting narrative that views trade and globalization not in political terms, but rather as an evolutionary process as old as war and religion--a historical constant--that will continue to foster the growth of intellectual capital, shrink the world, and propel the trajectory of the human species.
Praise For A Splendid Exchange: How Trade Shaped the World…
"[An] entertaining and greatly enlightening book . . . Bernstein is a fine writer and knows how to tell a great story well. . . . A Splendid Exchange is a splendid book." The New York Times

Superb . . . [A] significant contribution . . . The chronological range of Bernstein's book is staggering. . . . A Splendid Exchange is a work of which Adam Smith and Max Weber would have approved. What really marks Bernstein out is his talent in understanding, and then explaining, international commercial linkages." Paul Kennedy, Foreign Affairs

SparklingFascinatingOne freewheeling historical passage follows anotherA Splendid Exchange is saved from any possible tedium by its feast of contrarian conclusions, its broad historical sweep, and, especially, its vivid characters." Businessweek

Highly entertainingIn an era when trade is defined by interminable World Trade Organization talks and offers nothing more romantic than slab-sided container ships ploughing between nondescript ports, William Bernstein's book is like a trip to the movies to watch Johnny Depp swinging through the rigging." Hugh Carnegy, Financial Times

RollickingMr. Bernstein whisks his reader on a tumultuous journey.A Splendid Exchange is a timely and readable reminder that the desire to trade is not only one of the oldest human instincts but also the cause of many of the most important developments in our shared history.For anyone wanting a painless primer in the ideas of Adam Smith, David Ricardo, or more recent economists, such as Paul Samuelson, this is the place to find it." The Economist

A Splendid Exchange is filled with adroit observations on the evolution of trade from the ancient world to today. Bernstein draws upon a vast historical context to show how trade's development is part of society's natural progression toward prosperity, and he makes a convincing case that trade and trade policy have been the catalyst for the development of ambitious nations. He correctly asserts that we must be aware of how it has shaped the past because it will continue to have a pivotal rolefor better and for worseas we move into the future. Politicians take heed!" Arthur Laffer, founder and chairman, Laffer Associates

A Splendid Exchange is really much more than a history of trade. In William Bernstein's deft treatment, it becomes pretty much a history of the world. The age-old urge to profit by buying low and selling high led to empires, wars, trade restrictions, andmore recentlyviolent protests against economic and financial globalization. Bernstein's vast knowledge of trade's past is great preparation for dealing effectively with today's controversies about its future." Richard Sylla, Henry Kaufman Professor of the History of Financial Institutions and Markets, and Professor of Economics, NYU's Stern School of Business

In A Splendid Exchange, Bill Bernstein has further burnished his credentials as both an economic historian and a felicitous writer. He has given us an eye-opening, brilliantly researched, anecdote-laced, and exciting-to-read history of global trade. Readers of this compelling saga will be intellectually rewarded, enticed, and amusedand more sensitively attuned to the challenges of today's version of the globalization that has driven so much of civilization's economic growth and social progress." John C. Bogle, founder, the Vanguard Group

Bernstein illuminates modern debates in a sweeping history of international trade, weaving skillfully between rollicking adventures and scholarship. His history of trade from the ancients to the present is a story of our irrepressible urge to exchange goods, which in turn fostered exchanges of art, science, and ideas. The story of trade is the story of humankind; all in all, a happy story indeed." Pietra Rivoli, author of The Travels of a T-Shirt in the Global Economy

Think contentious debate over globalization is something new? Think again. With a staggering understanding of the role of trade in history and a storyteller's touch for illuminating its human impact, William Bernstein takes us back to days of ghost ships' and perilous land journeys to explain how age-old debates over trade's winners and losers shape today's bitter divisions over free trade and protectionism. Along the way, Bernstein uncovers the roots of Sino-American trade tensions and explains how century-old backlashes over free trade continue to reverberate as the world's nations become ever more connected to each other through commerce. Bernstein has given us a master's insights into the past to help us understand an issue of deep divisions in the present age." Sara Bongiorni, author of A Year without Made in China": One Family's True Life Adventure in the Global Economy

Bernstein's powerful book demonstrates that trade is a fascinating, pervasive, and often dominant factor in human history. But Bernstein also provides us with memorable stories about nations around the world and through the centuries. Economics, sociology, military strategy, and even health care are here, as well as a striking group of vivid personalities. The book is not just essential reading; it is fun all the way." Peter L. Bernstein (no relation), author of Against the Gods and Wedding of the Waters

Bill Bernstein is a funny, lively storyteller who engages us with rich stories that tell how international trade and economic history have evolved together from the Stone Age on. This book is a wonderful way to learn history, geography and economics. As I read it, I felt like a kid reading about Uncle Scrooge's adventures among old civilizations in strange lands, all the while harvesting ideas for my classes." Ed Tower, Professor of Economics, Duke University

Financial theorist and historian Bernstein is equally at home plumbing the romantic dawn of trade or untwisting the mind-wracking complexity of modern international commerce. . . . An excellent exposition of key factors in a perennial economic conundrum.Kirkus Reviews (starred review)
Grove Press, 9780802144164, 467pp.
Publication Date: May 1, 2009