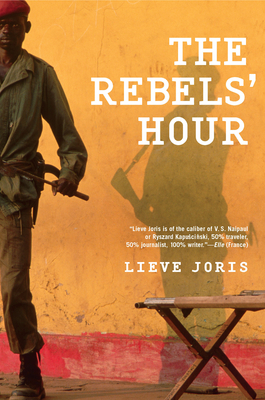 The Rebels' Hour (Paperback)
Grove Press, 9780802144218, 297pp.
Publication Date: March 16, 2010
* Individual store prices may vary.
Description
Lieve Joris has long been considered "one of the best journalists in the world" (Lib ration, France) and in The Rebels' Hour she illuminates the dark heart of contemporary Congo through the prism of one lonely, complicated man--a rebel leader named Assani who becomes a high-ranking general in the Congolese army. As we navigate the chaos of his lawless country alongside him, the pathologically evasive Assani stands out in relief as a man who is both monstrous and sympathetic, perpetrator and victim.
About the Author
Joris was born in Belgium. One of Europe's leading travel writers, she has published widely-acclaimed books on Europe, the Middle East, and Africa. She lives in Amsterdam.
Praise For The Rebels' Hour…
Much more than a portrait of a Congolese herd boy who becomes an important military man, THE REBELS' HOUR is the portrait of a vast and chaotic country in a state of near-anarchy. I have long admired Ms Joris's African books, but this one is both powerful and timely, intensely imagined."Paul Theroux

In Joris' book, the smell of threat is everywhere . . . [The Rebels' Hour] offer[s] glimpses of a man who has internalized the conflict in Congo. Joris offers a fresh view of a country, smack in the heart of Africa, that has been obscure to too much of the English-speaking world."San Francisco Chronicle

[The Rebels' Hour] is so well researched and so beautifully written that it helps us enormously to understand the reality of today's Congo and the political complexities that have led to the emergence of current Tutsi rebel leader Laurent Nkunda."The Globe and Mail (Canada)

The Rebels' Hour by Lieve Joris, the great Belgian travel writer . . . [is] a book that achieves intense intimacy with a few characters to represent a much more immense historical experience. . . . It is as deeply reported and directly observed as the very best nonfiction."The New Yorker (online)

This is much more than the story of a single man. . . . It is the story of a people living in a state given over to anarchy where friends and neighbors become deadly enemies. . . . [A] close-up portrait of a man in charge of the unspeakable."Good Book Guide (UK)

Meticulously researched."Mia Farrow

[The Rebels' Hour] novel-like structure does not just make complex issues accessible; at times it makes them sing. . . . This is an intelligent and at times beautiful reckoning of one of the great human dramas of our age."The Telegraph (UK)

An exhaustively researched, colorfully executed look at war-torn Congo . . . A profound portrait of a man and his times, [The Rebels' Hour] . . . is a bare, honest, and powerful tableau that illuminates the African dilemma in hauntingly personal terms."Publishers Weekly

A compelling, blood-soaked portrait of a young Tutsi rebel who rose to become one of the leading generals in the Congolese Army."Details

A close-up and illuminating look at ethic strife."Booklist

Lieve Joris is of the caliber of Naipaul or Ryszard Kapuscinski, 50% traveler, 50% journalist, 100% writer."Elle (France)

Lieve Joris is a superb portrait painter, getting at fundamental questions through characters and people."Le Monde (France)

The most striking thing about Joris is her way of relating major history by accumulating little stories. . . . [She] has that rare ability to follow both paths, the general and the particular, the panorama and the close-up, the analysis and the narrative, without ever losing track of either. . . . Through the tale of Assani, a young cowherd turned rebel chief, The Rebels' Hour recounts the history of the Congo over the past forty years. . . . Assani belongs to this generation of young men who have pursued their studies in order to escape their village, but who have headed back into the bush to take up arms. . . . Joris scrutinizes everyone at the right level, straight in the eyes, never generalizing, giving everyone the right to individuality. . . . It's the only tenable position in Africa, where the Western gaze is so often displaced, obscured by Afro-pessimist cynicism or embellished by Afro-optimist illusions."Libération (France)

What Lieve Joris does is not so much field research as the literary vivisection of contemporary history. . . . The Rebels' Hour is of great value because it intimately mixes the continuing humanitarian and political tragedy of Central Africa with the sad, touching, and thrilling life story of a man plunged into complicated and hostile surroundings."Septentrion (Belgium)
The portrait of the Congo that emerges from [The Rebels' Hour] is closer to reality than all political analyses; the approach to actual facts, conveyed without indulgence or prejudice, seems more honest than the majority of academic studies. The Little Prince said, It is only with the heart that one can see rightly.' Lieve Joris's vision isn't only right, it's indispensable."Le Soir (Belgium)