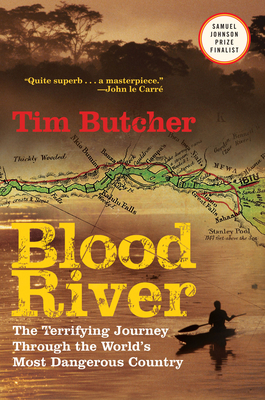 Blood River (Paperback)
The Terrifying Journey Through the World's Most Dangerous Country
Grove Press, 9780802144331, 363pp.
Publication Date: September 1, 2009
Other Editions of This Title:
Hardcover (10/1/2008)
* Individual store prices may vary.
Description
Published to rave reviews in the United Kingdom and named a Richard & Judy Book Club selection--the only work of nonfiction on the 2008 list--Blood River is the harrowing and audacious story of Tim Butcher's journey in the Congo and his retracing of legendary explorer H. M. Stanley's famous 1874 expedition in which he mapped the Congo River. When Daily Telegraph correspondent Tim Butcher was sent to Africa in 2000 he quickly became obsessed with the legendary Congo River and the idea of recreating Stanley's journey along the three-thousand-mile waterway. Despite warnings that his plan was suicidal, Butcher set out for the Congo's eastern border with just a backpack and a few thousand dollars hidden in his boots. Making his way in an assortment of vehicles, including a motorbike and a dugout canoe, helped along by a cast of characters from UN aid workers to a pygmy rights advocate, he followed in the footsteps of the great Victorian adventurer. An utterly absorbing narrative that chronicles Butcher's forty-four-day journey along the Congo River, Blood River is an unforgettable story of exploration and survival.
Praise For Blood River: The Terrifying Journey Through the World's Most Dangerous Country…
Quite superb . . . a masterpiece." John le Carré

Less an adventure tale than a journalistic investigation of what has gone wrong in the Congo, and why . . . Butcher's breadth of knowledge is both impressive and eclectic." Washington Post

Some travel is inspired, some courageous, some insane. And every now and then someone undertakes a trek that is all three, as happened when Butcher traveled the length of the Congo River . . . a gripping account of [Butcher's] perilous journey through the heart of Africa and its embattled people." Seattle Post-Intelligencer

Devastating yet strangely exhilarating . . . [Butcher's] tale is chock-a-block with gruesome details about the brutal Belgian rule of the late 19th century as well as the casual disregard for life on the contemporary scene. Part travelogue, part straight-forward reportage, Butcher's story is a full-throated lament for large-scale human potential wasted with no reasonable end in sight." Publishers Weekly

A somber, eye-opening journey into the definitive heart of darkness . . . a brilliant account of a broken land, one that certainly deserves the attention this excellent book brings." Kirkus Reviews

Tim Butcher deserves a medal for this crazy feat. I marvel at his courage and his empathy with the unfortunate Congolese when he re-enacted Stanley's appalling journey across the continent." Thomas Pakenham, author of The Scramble for Africa

This is a terrific book, an adventure story about a journey of great bravery in one of the world's most dangerous places. It keeps the heart beating and the attention fixed from beginning to end." Fergal Keane, author of Season of Blood: A Rwandan Journey

It's a fine book, and I greatly enjoyed it. It's a story of the extraordinary courage, tenacity and endurance of two men: H.M. Stanley, and Tim Butcher, who wrote it. The DR Congo is one of the most dangerous and unpredictable countries on earth, and to have penetrated into the depths of its darkness and described it so fully is a great achievement. It even left me with more of an affection for Stanley than I have ever felt before. As for Butcher, I have nothing but admiration for him." John Simpson, author of Simpson's World: Dispatches from the Front Line

A grim and gripping read." Christopher Hart, Sunday Times

Gripping." Esquire

From his adventure, [Butcher] has plundered a wealth of terrific stories and survived to recite a rosary of unstinting horror." Nicholas Shakespeare, The Telegraph

Butcher's 21st century eye gives a whole new slant on [Stanley's] African expedition." Sunday Express

Both stirring and thought-provoking." Anthony Daniels, Sunday Telegraph

What makes Blood River such a compelling read is the fact that the journey becomes an exercise in mental terror, the author skillfully conveying the exhaustion of six weeks on tenterhooks, wondering what might happen just around the next bend." Jim Blackburn, Wanderlust

A remarkable travelogue of exquisite proportions . . . nothing short of a modern-day masterpiece." Aesthetica Magazine

It throws light on a place that lives in such extreme darkness, most of us have lost sight of it completely. In doing so it reminds us that travel writing can still be exciting, uncompromising and politically relevant."Anthony Sattin, Spectator

Butcher's account of his journey down the Blood River' is terrific in every sense . . . It is an extraordinarily compelling book by a talented writer with something to sayand I suspect that Conrad would have liked it very much indeed." Geographical Magazine

A remarkable, fascinating book by a courageous and perceptive writer. One of the most exciting books to emerge from Africa in recent years." Alexander McCall Smith

This is a terrific book, an adventure story about a journey of great bravery in one of the world's most dangerous places." Fergal Keane, author of Season of Blood

An intrepid adventure. In making and describing this journey, Tim Butcher has followed in the footsteps of Stanley and Conrad. It takes a lot of guts to yomp through the Congo and he obviously has plenty of those. But it is the wit and passion of the writing that keeps you engrossed." Giles Foden, author of The Last King of Scotland

The day of the solitary intrepid traveler is not over. Tim Butcher's extraordinary, audacious journey through the Congo is worthy of the great nineteenth-century explorers. Completely enthralling but also a thoughtful and sobering portrait of modern Africa." William Boyd, author of Restless

Tim Butcher deserves a medal for this crazy feat. I marvel at his courage and his empathy with the unfortunate Congolese when he reenacted Stanley's appalling journey across the continent." Thomas Pakenham, author of The Scramble For Africa

Tim Butcher has written a wonderful adventure story about one of the least known regions of modern Africabecause it is among the most dangerous. Blood River represents a remarkable marriage of travelogue and history, which deserves to make Tim Butcher a star for his prose, as well as his courage." Max Hastings, author of Armageddon: The Battle For Germany